Drive to Springfield, Missouri - 11/2/2019
Kirk drove Shawn and I from the hotel to his house where the three of us sent about an hour packing the last few items into the U-Haul. We left Lubbock at about 10:00am with me driving Kirk's Jeep Cherokee SRT and Kirk and Shawn driving the U-Haul.
We past by Joyland Amusement Park at we left Lubbock. I was a little sad that I couldn't get a couple more coaster credits. But I shouldn't really be too disappointed, as they are closed for the season.
On the way out of town I saw some prairie dogs standing atop their burrows. It was the first time I had ever seen prairie dogs in their natural habitat.
For almost an hour driving east through the South Plains of Texas there was very little to look at. Lots of perfectly flat land and endless cotton fields. The area is the largest contiguous cotton-growing region in the world.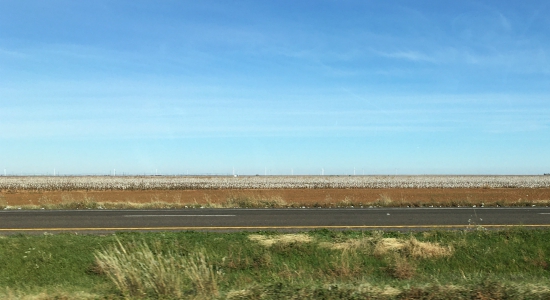 Just when this drive began to feel like it just might last forever, we reached the White River Valley. A grand vista opened up around us as we descended into the valley.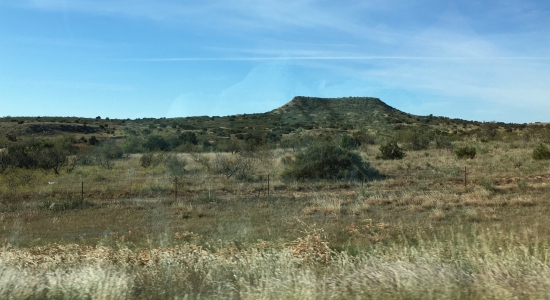 The views along the drive from here to Wichita Falls reminded me of the scenes you might find in an old western movie.
Most of this portion of our drive was on U.S. Route 82 which had the valleys mostly to the south and the plains to the north of the road. At several areas in these plains were groups of wind turbines.
After three and a half hours of driving, we stopped in Wichita Falls to eat at Panda Express, fill up on gas and switch drivers.
On Interstate 44 we crossed the Red River into Oklahoma.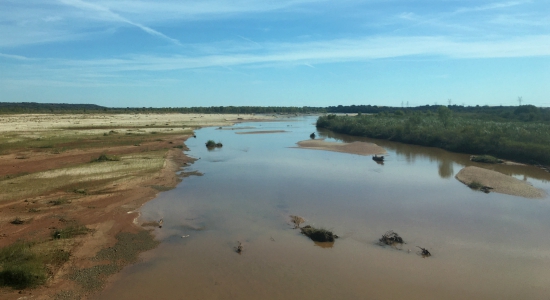 As we passed through Oklahoma City we could see Frontier City Theme Park along the side of the interstate. I could see that the park was open for business and I realized it was another opportunity for more coaster credits that I would have to pass up.
After another hour and a half we passed through Tulsa.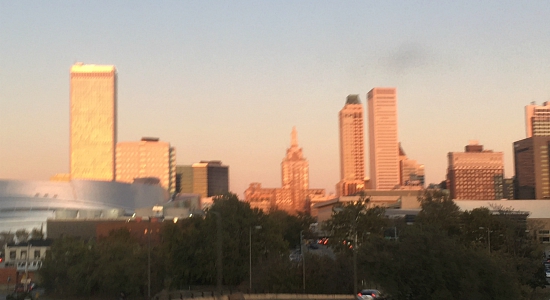 A short drive up the freeway we stopped for gas and I purchased a magnet to commemorate visiting my 41st state.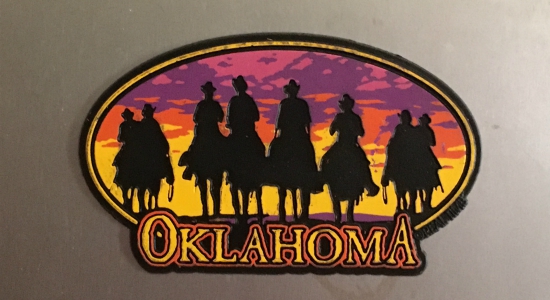 We crossed into Missouri and stopped in Joplin to eat at Olive Garden.
It was past ten o'clock as we entered Springfield. As we approached a overpass I noticed two police cars parks on top with their flashing lights on. And right at the last second as we passed underneath, I glimpsed a man standing at the railing of the bridge as if he were about to pump off. This was just one more thing on this trip that I hadn't ever seen before.
We made our way to our hotel for the night, the DoubleTree. Our rooms were on the 6th floor of this very nice hotel which featured a huge atrium.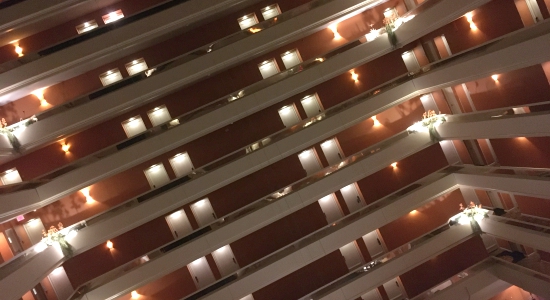 We will all need a good rest tonight for the final leg of the drive to Indy tomorrow.