Carowinds & Copperhead Strike - 6/21/2019
Sarah had invited me to visit with her for a weekend while she is working her paid internship at Georgia Tech this month. On my drive to Atlanta I made a stop at Carowinds for the day to visit the park once again and to check out their newest coaster.
I started my day in the park with a ride on my number one coaster in the world, Fury 325. This ride never disappoints with its speed, airtime and great layout.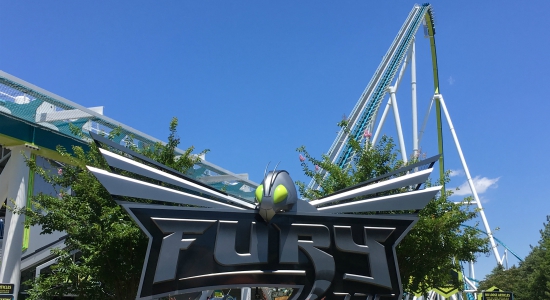 I rode most of the parks other coasters like Intimidator, Afterburn, Carolina Cyclone, Hurler, Carolina Goldrusher and Nighthawk. I also rode Flying Cobras with its new name and paint scheme.
New for 2019, the park has built a Mack Rides launch coaster. The themeing of the ride features farm items, vehicles, tractors and a trio of outhouses that all work together very well. The layout begins with a slow heartline roll right out of the station and then a U-turn into the launch shed. While waiting for the launch there are a few theatrical items. Then the LSM launch powers you into a circular loop that gives a lot of hangtime. The rest of the layout if full of quick twists and turns with pops of ejector airtime. Midway through the ride is a second launch, this one features a unique hill during the launch. The restraints on the coaster are not like any I've seen before. They are very comfortable and the belt attaches in a very well designed upward facing slot that makes it easy and convenient. This coaster feels like an upgraded version of Maverick at Cedar Point.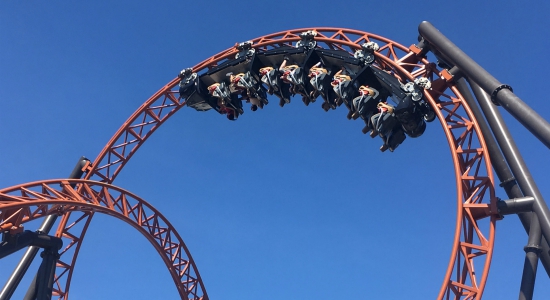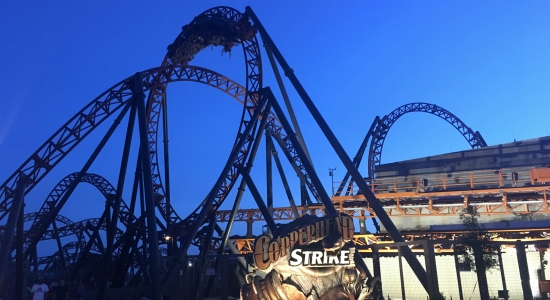 Click here to see all of my pitures of Copperhead Strike.
Since my last visit to the park, there have been many improvements to the Blue Ridge Junction, County Fair and Carousel Park sections. These upgrades are very good and really show the park's attention to detail and enhance the guest experience.
Tonight I stayed in Charlotte before the final leg of my drive into Atlanta tomorrow where I'll meet up with Sarah.