Frisco Bowl - 12/19/2018
This morning began with breakfast at the hotel.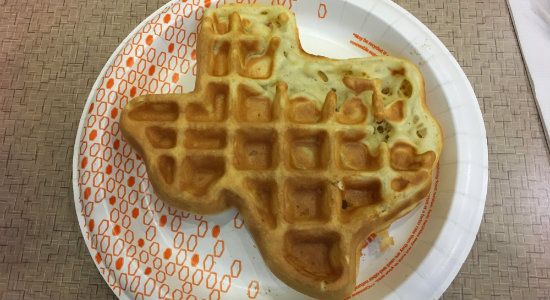 Next Julie, Jenny and I took a Lyft to the Dr. Pink Fields near Toyota Stadium to watch the Marching 110's final practice before tonight's bowl game.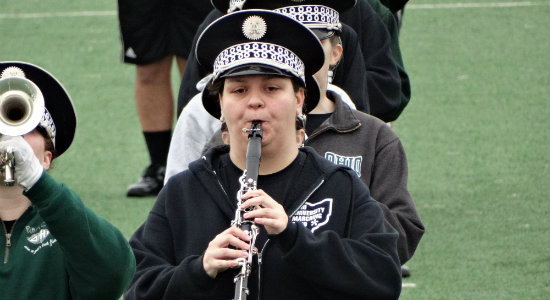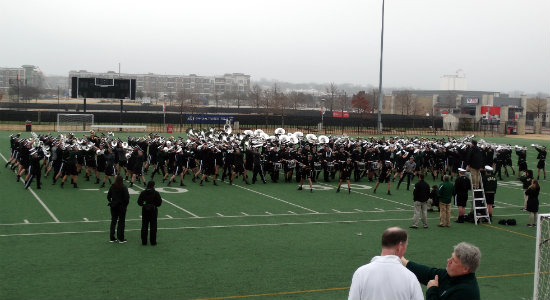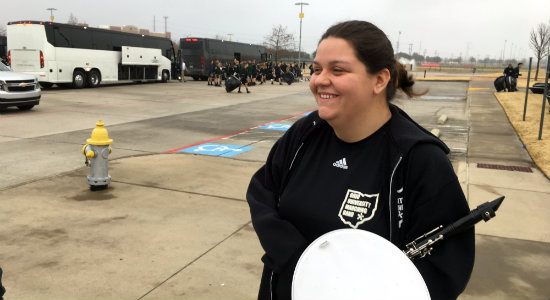 After practice we returned to the hotel to relax and later ate at Durkin's Pizza across the street.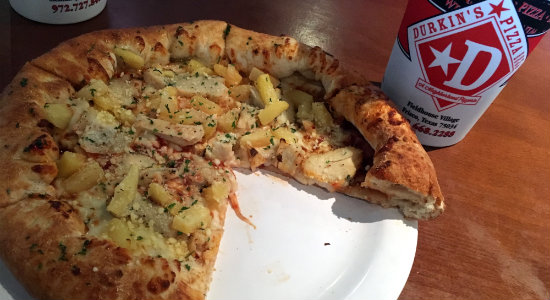 Click here to see more pictures from Frisco.
Then it was time for the 2018 DXL Frisco Bowl between the Ohio University Bobcats and the San Diego State University Aztecs. Julie, Jenny and I made our way to Toyota Stadium. For the pregame activities we came to the stadium two hours before kickoff to attend the Bobcat Bash held by the OU Alumni Association. There was food and drink under a large canopy in the courtyard then encircled the stadium and overlooked the field below. The stadium was built so that when you enter the stadium at ground level you are at the top of the grandstands and the field is far below. It is an outdoor field, but VIP area where the bash was held was covered which was good because it had begun to rain a little.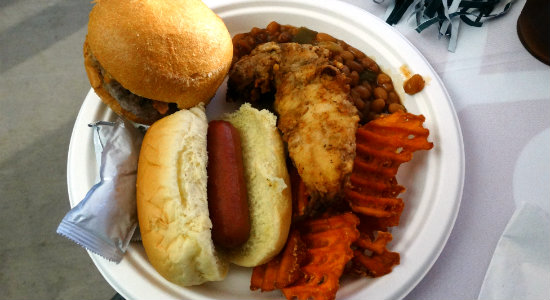 As game time approached the Marching 110 came to the Bobcat Bash and performed for the fans.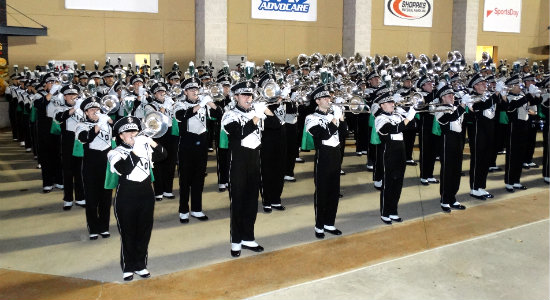 And finally it was time for football.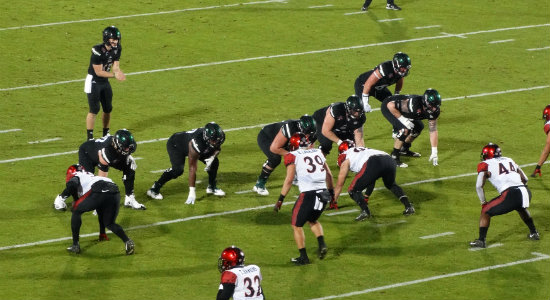 For halftime, Julie and I left the dry confines of the VIP area and made our way to the homeside grandstand to watch Sarah and the OU Marching 110.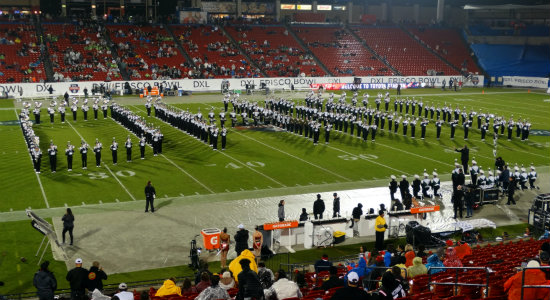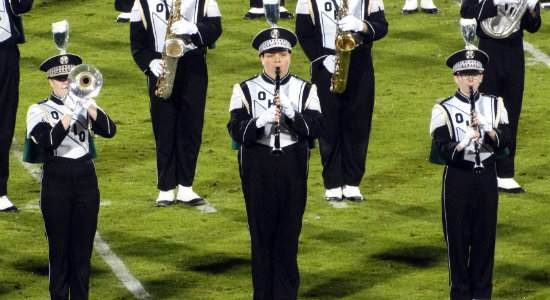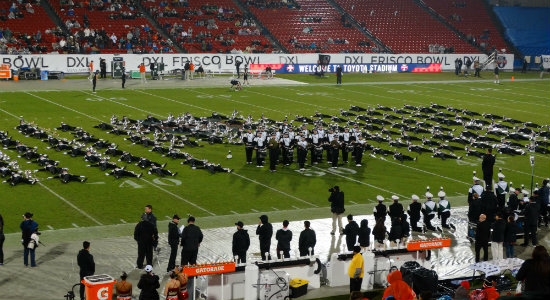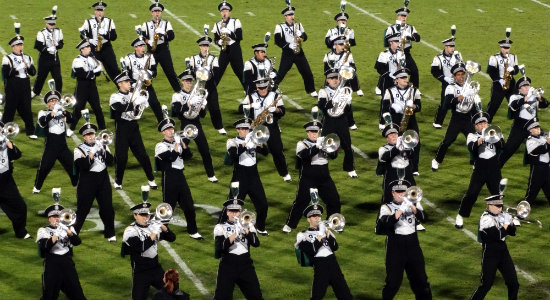 At the conclusion of the halftime show Sarah marched off the field for the last time as a member of the Ohio University Marching Band.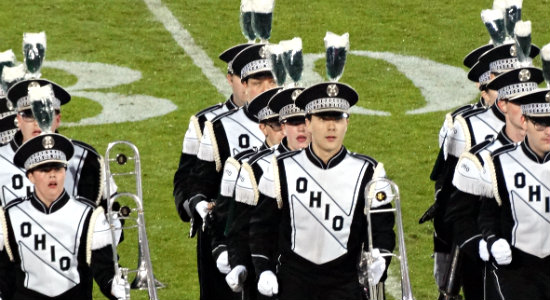 The rain continued into the second half of the game, but that didn't discourage the band's enthusiasm.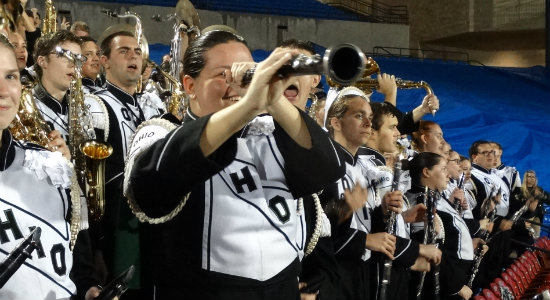 The original director of the Marching 110, Gene Thrailkill, traveled from his home in Oklahoma to attend the game.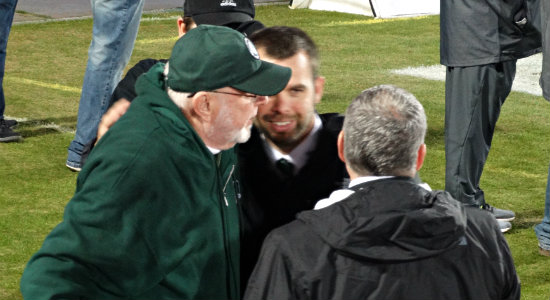 Gene Thrailkill, Josh Boyer and Richard Suk.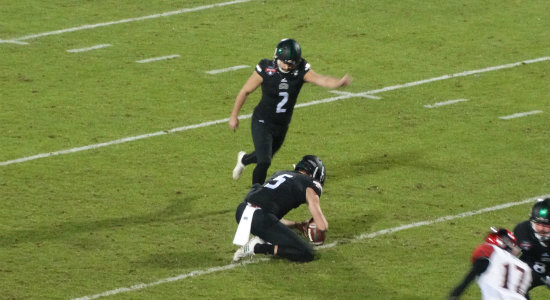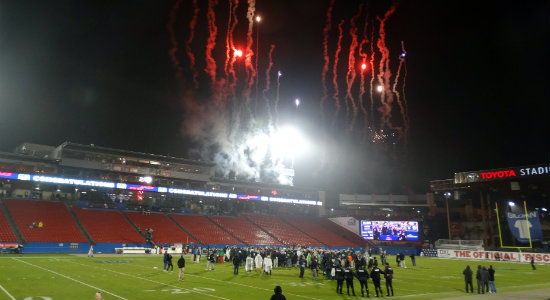 During the fourth quarter the rainshowers became heavy but that didn't show down the scoring on the field. The Bobcats shutout the Aztecs 27-0. The victory was celebrated with fireworks and the presentaion of trophies and awards on the field.
Sarah left the stadium for the last time as a member of the Marching 110. She and the band headed straight for the buses and the long overnight twenty hour ride back to Ohio.
Click here to see all of my photos from the Frisco Bowl.
As for Julie, Jenny and I it was back to the hotel for a restful night sleep and a comfortable plane flight home tomorrow.