Flight to Jacksonville - 10/31/2018
The long awaited wedding of Tyler and Katie was finally close at hand. Today I journeyed to Florida to meet up with the Kinnisons and Steenrods as we stayed in a rented beach house for the weekend.
The Kinnisons and Steenrods began their travel yesterday in a rented van as they drove non-stop all night to get to Jacksonville. Meanwhile, my flight out of Columbus departed today at 10:25am.
As my flight descended into Atlanta just before noon, the voice of the flight crew came across the P.A., "We are making our final approach into Atlanta. For those of you who have never seen the Statue of Liberty, if you look out the right side of the plane you will still not see it."
The Hartsfield-Jackson Atlanta International Airport is truly a massive facility, with a total of seven concourses. To speed traveling between the different concourses, travelers have the option of using the Plane Train, a subway system beneath the airport.
I departed on the second leg of my trip at 1:20pm from Atlanta to Jacksonville. This was a short 48 minute flight. I was watching the flight data on the video screen on the seat back as we made the approach into Jacksonville. Once the plane touched down, the screen read that our attitude was negative one hundred and fifty feet and six miles from the airport.
I used Lyft to get from the airport to the beach house. This was the first time that I've used Lyft and it was very convenient and easy to use. The drive to the beach house was about 45 miles and took 50 minutes. As we drove through the Ponte Vedra area, my Lyft driver, Jose pointed out to me the many Porsches, Ferraris and Teslas. It's quite a high class area outside of Jacksonville.
I got to the beach house around 3:30pm and the Kinnisons and Steendrods were already settled in and awaiting my arrival. We spent the rest of the afternoon relaxing around the house and on the beach.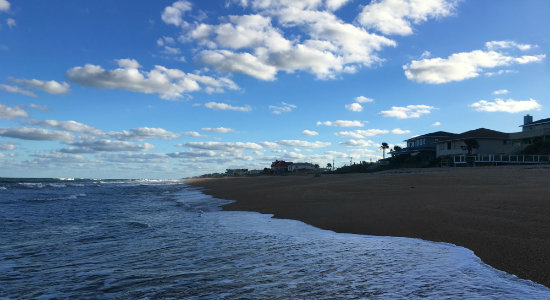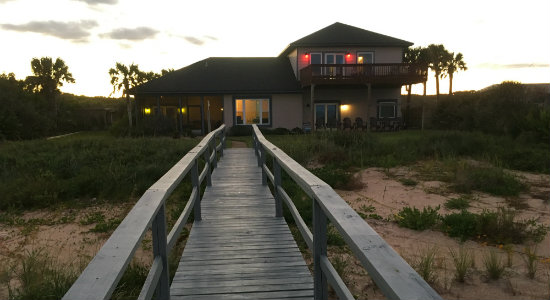 Click here to me all of my pictures from South Ponte Vedra Beach.
Each evening on this trip the three families took turn cooking for each other. This evening mom cook chicken noodle casserole.
I looking forward to the next few days on life on the beach and Tyler's wedding.