In & Of Itself - 8/9/2018
Today Sarah and I had a the day to explore New York before attending the evening's featured event, In & Of Itself.
We took the subway this morning to Brooklyn and on our way to the Brooklyn Botanic Garden we made a short stop to check out Grand Army Plaza.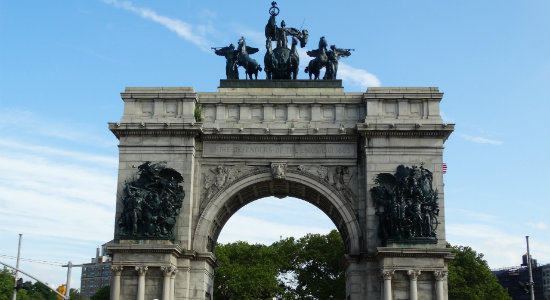 Click here to see my pictures of Grand Army Plaza.
Your next stop was the Brooklyn Botanic Garden. It is 52 acres filled with a number of specialty "gardens within the Garden", including the Herb Garden, Lily Pool Terrace, Bonsai Museum, Magnolia Plaza, Celebrity Path and Cherry Esplanade. I found the Fragrance Garden to be an truly exceptional experience. With plants and flowers with a large array of aromas to encounter. We spent a couple hours here, which really isn't enough time to see all of it.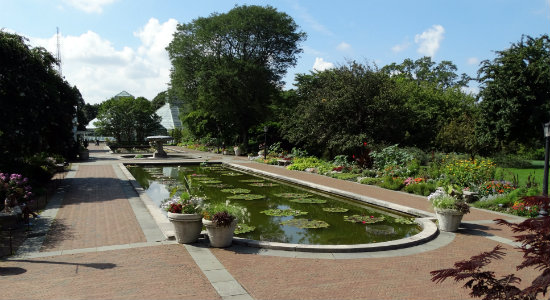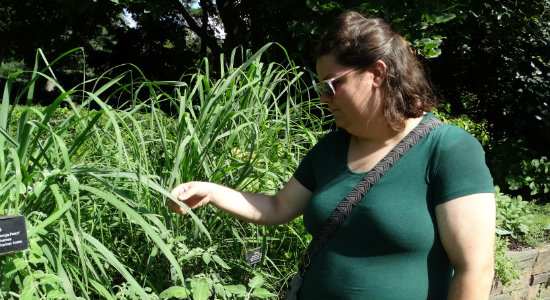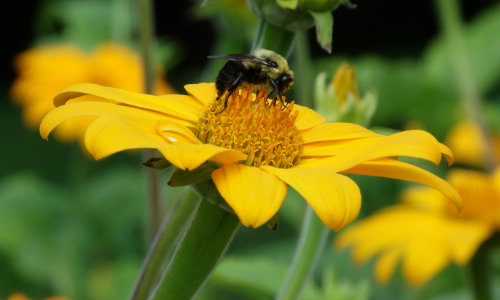 Click here to view all of my photos from the Brooklyn Botanic Garden.
We rode the subway back to midtown where we grabbed some street food from the vendors and ate as we stood on the sidewalk. It was also an interesting sight to watch the countless construction workers from the various nearby high rise projects jockeying for their meals with the vendors and then a place to sit down to eat.
We casually strolled along Broardway just south of Columbus Circle. We came across the Ed Sullivan Theater.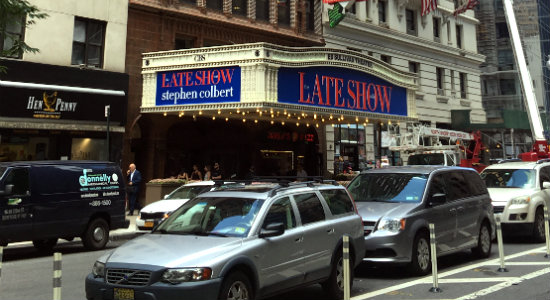 Sarah was off to visit with one of her college friends who was working as an intern at Hearst Communications and O, The Oprah Magazine. With some time to myself, I decided to head to Central Park and explore. I journeyed to The Mall, Bethesda Fountain, The Lake and The Triplets Bridge. I was asked to join a group of street performers near The Mall for their acrobatic stunts. In the end, they choose not to do flips over my head because I was too tall.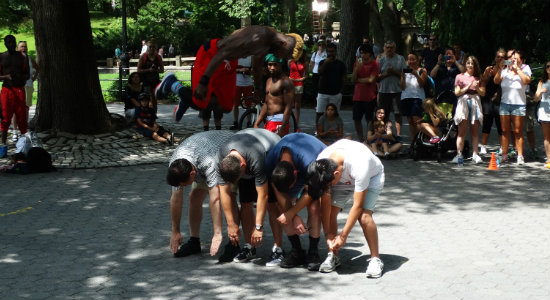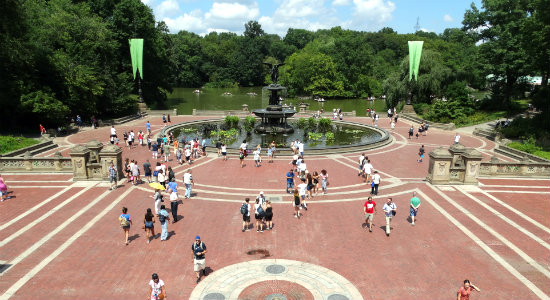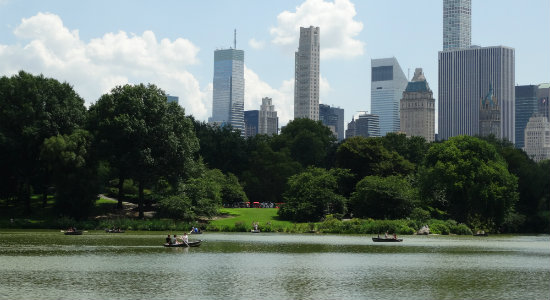 Near Cherry Hill I watch a film crew setting up.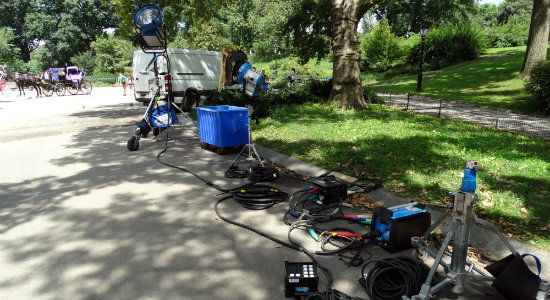 Click here to view all of my photos of Central Park.
As the afternoon wore on, I made my way back to the hotel in New Jersey to shower and dress for the evening's event. Sarah soon arrived at the hotel to get ready for our evening out on the town in Manhattan.
For dinner was had Italian cuisine at Vapiano at the corner of University Place and East 13th Street. I had Carbonara and it was excellent.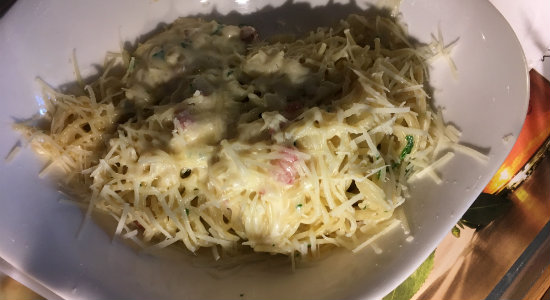 After our meal we spent some time walking around Union Square Park which was filled with lots of people enjoying the activities and the great weather.
Across the street from the park was the Daryl Roth Theatre, the home of In & Of Itself. This performance is the reason we have made this trip to New York. I have heard Adam Savage talk about this show a couple of times on his podcast and hearing the was show is closing in a couple more weeks, I planned this trip as soon as I could.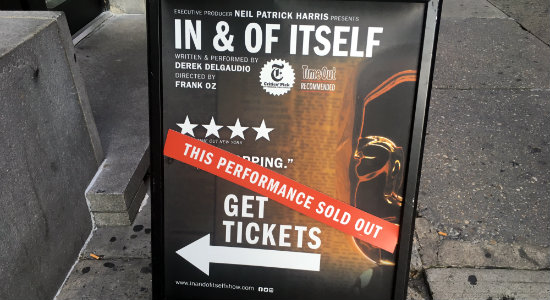 In & Of Itself was a exploration of the illusion of one's identity by Derek DelGaudio. He is a performance artist, writer, and three-time Academy of Magical Arts Award winning magician, including the 2016 Magician of the Year Award. The performance has Neil Patrick Harris as executive producer, original music by Mark Mothersbaugh from Devo and Frank Oz as director.
As each audience member enters the venue they are asked to select a card from a wall of a thousand. The cards read "I am" on its top half and a distinct phrase below such as "a ray of sunshine", "a hobo", "an artist", "a republican", "a U.F.O. abductee". The cards were literal, philosophical and comedic. Sarah choose "I am a journalist" and I choose "I am a human being".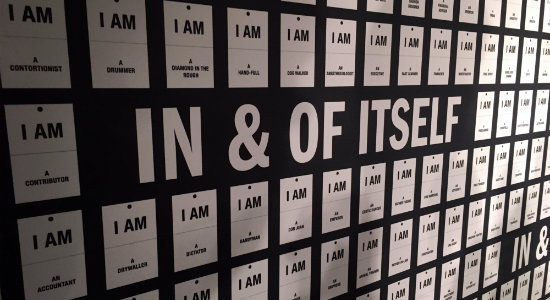 The show includes only about six magic tricks and each one is accompanied with a story that forces the viewer to question the idea of identity. The tricks and stories included, a ship in bottle, dog and wolf, brick and post office cubbies filled with letters. There is also a segment the involved a journal past from one audience member to the next from one show to the next since the beginning of the show in April 2017.
Oh, and somehow DelGaudio knows who chose which defining card at the top of the show. Including me and Sarah's. Which is quite the ending!
But it still isn't the final trick in the show. This is a show I will never forget. WOW!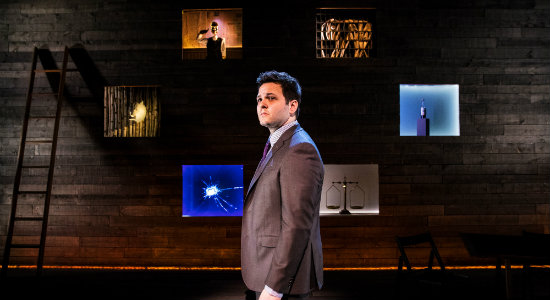 Click here to see various other photos from around New York City.
Sarah and I really enjoyed our short trip to The City So Nice, They Named It Twice.