Steel Vengeance - 5/12/2018
Today was my first trip of the year to Cedar Point. The goal for today was to conquer the park's new scream machine, Steel Vengeance. I made my way to the ride entrance and saw that the wait 3 hours. This long wait was not unexpected, as they were running the coaster with just one train. I decided to skip the ride for now and check back in the afternoon for a possible shorter wait.
Next, I met up with coaster friends David and April for some rides together. It was cold day at CP and the afternoon was rainy. Even in the middle of the afternoon it was 47 degrees at Cedar Point while it was 85 in Nelsonville.
After spending over an hour in the Red Garter Saloon hiding from the rain I ventured out to try my luck with the queue for Steel Vengeance. David and April had already been on the coaster before I met up with them, so I was a single rider. At 3:30pm the wait time was an hour and a half.
I was assigned to the very back row of the coaster. I was a little nervous about this for my first ride, but I decided to accept my fate.
The coaster itself was amazing. It is really pushing the limits of what the human body can take. Countless changes in direction, while still a smooth track. The second half does not let up one bit. I wasn't able to keep my sense of direction or anticipate what twist or turn was next. What a complete transformation from Mean Streak. WOW!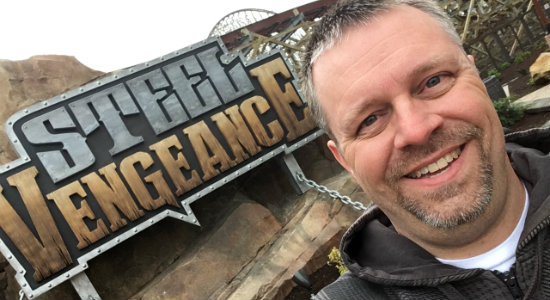 Click here to view my pictures of Steel Vengeance.
Despite the cold and rain, I was happy to be back at Cedar Point and get a few rides and spend time with David and April. And I now have coaster #207 under my belt.