Flight Home (almost) - 5/3/2018
After nearly a week in Europe it was time to say goodbye and begin our trip back home to America. Sarah would be flying home on a separate flight from Jenny, Jake and I, so we said farewell to her at our hotel and headed off on our journey.
We boarded the Tube at the Russell Square Station for the ride on the Piccadilly line to Heathrow Airport.
The three of us made our way through the airport in boarded our plane for departure at 12:15pm.
Click here to see various pictures from around London.
Our flight to Washington, DC was on a Boeing 787. This was the first time I had ever flown on the 787 Dreamliner. It was a very spacious and modern airplane.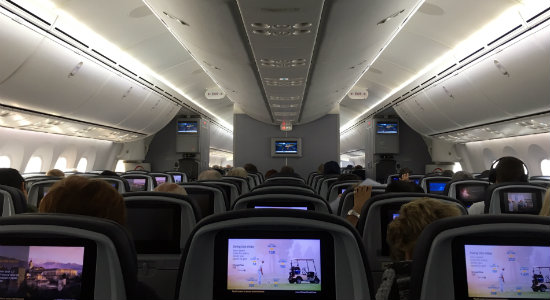 We landed at Washington Dulles Airport at 3:15pm. Once we entered the terminal we soon found out that our flight to Columbus had been canceled. It turned out the plane that was to take us to Columbus had originated in Oklahoma City and that flight was canceled due to severe thunderstorms. So we were stuck in Washington with no plane to take us to Columbus.
We went to the customer service counter to make other arrangements. Next to us was a couple of ladies arguing about the poor service, as if the airline had some kind of control over the weather. Instead of arguing, we calmly listened to the options that they were offering us. The airline even offered to fly us to another city such as Cleveland, Dayton, Cincinnati or even Pittsburgh. The plan that got us home the quickest was to fly to Chicago late this evening and then get an early plane to Columbus tomorrow morning.
We waited for several hours in the Washington Dulles terminal for our flight. Finally, we boarded our plane and flew to Chicago where we arrived at about midnight.
Now we just needed to spend the night in the O'Hare Airport terminal before returning home tomorrow.