Cuyahoga Valley Scenic Railway - 9/25/2016
Today Mom, Jake and I traveled to northeast Ohio for a special event on the Cuyahoga Valley Scenic Railway. This weekend the railway was offering special excursions on the Nickel Plate Road #765. This trip was a treat from Mom to Jake and she invited me to come along too and help co-pilot and navigate.
The Cuyahoga Valley Scenic Railway runs through Cuyahoga Valley National Park as its trains travel from Independence to Akron.
Nickel Plate Road no. 765 is a 2-8-4 "Berkshire" type steam locomotive built for the Nickel Plate Road in 1944 by the Lima Locomotive Works in Lima, Ohio. The locomotive was here this weekend on loan from the Fort Wayne Railroad Historical Society in Indiana.
First we drove to the village of Peninsula. This is a quaint town along the Cuyahoga River with waterfalls, lovely old homes and a depot. We spent a little time here walking around looking at the river, depot and a couple trains that passed through.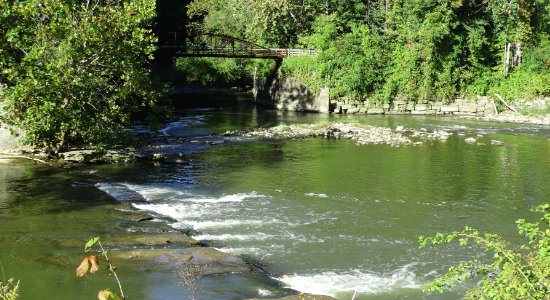 The Cuyahoga River at Peninsula.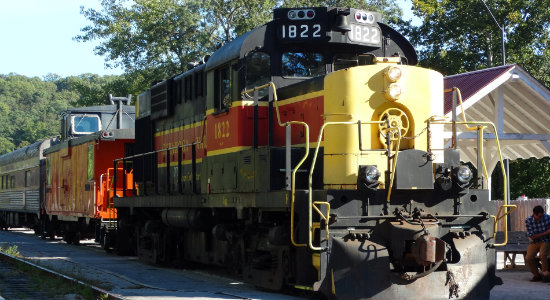 CVSR #1822, a RS-18 built by Montreal Locomotive Works.
We then drove to the North Akron Station where we saw the steam engine roll in and we soon boarded. From here the train route headed north along the Ohio & Erie Canal which follows the Little Cuyahoga River and the Cuyahoga River to rail yard near Independence. The route is over 21 miles long (42 miles round trip). The tour was sold out and every seat was filled.
At the Boston Mill Station the train stopped to allow those of us who choose to get pictures of the train to step off the train briefly. We were spread out in a long line in an open field and placed far back from the tracks to allow everyone to get better pictures without crowding into each other. The train moved up the tracks and out of view before barrelling down the tracks past us.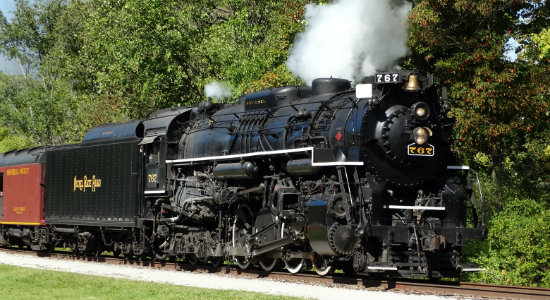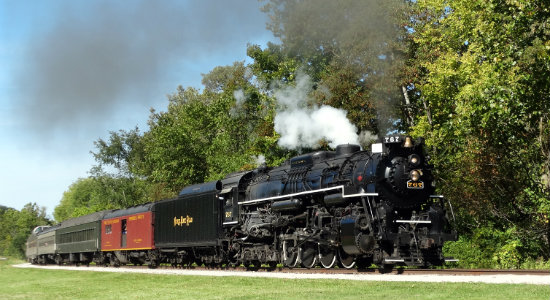 It was quite an experience to hear and feel this behemoth thunder by the spectators and shutterbugs. The train reversed and made a second pass before stopping to allow us the board again and continue the journey.
We continued north to the rail yard near Independence and then made a final non-stop run back to Akron. Throughout the entire excursion I was impressed by the number of spectators along the tracks, on the side of road trying to get a glimpse of the #765 as we rode by. I even saw a man down in a gulley getting a shot looking up at the train. Seeing the groups of people and cars crowding the roads next to the tracks, it kind of felt like we were celebrities being chased by the paparazzi.
Upon arriving back at the North Akron Station we disembarked the train, shopped for souvenirs and took some more pictures.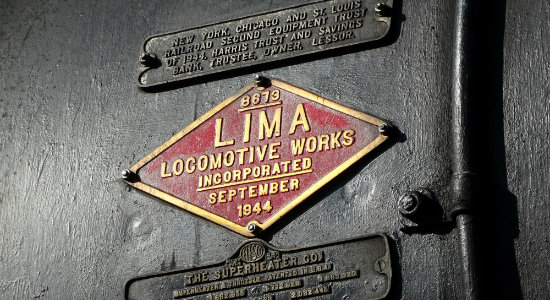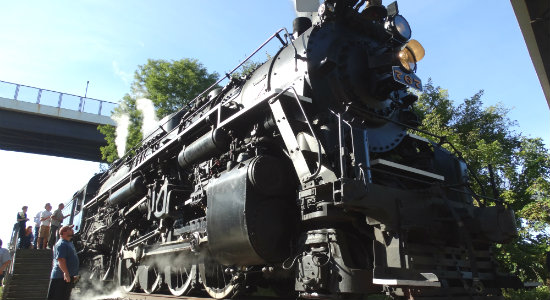 Click here to see my photos of the Cuyahoga Valley Scenic Railway and NKP 765.