Beech Bend Park - 7/12/2016
Today I drove to Bowling Green, Kentucky to visit the small family amusement park Beech Bend Park. The park has a friendly country fair feel to it and is adjacent to it's own campground and dragstrip.
I rode Air Race and Hubcab Alley Antique Cars as well as the park's three roller coasters; Kentucky Rumbler, Spinning Out and Wild Mouse. The highlight of my short visit was Kentucky Rumbler. This twisting woodie is a creation of Great Coasters International. The track interacts with the station a total of four times. This feature is truly one-of-a-kind.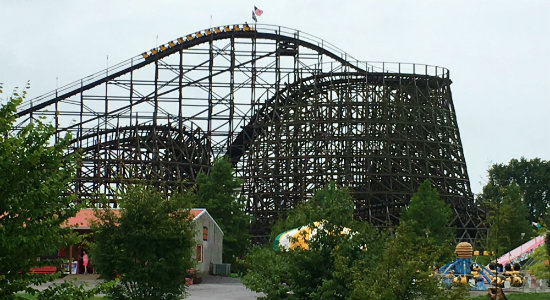 Kentucky Rumbler.
Click here to see my pictures from Beech Bend Park.
Tomorrow I'm off to Holiday World and my 200th coaster.