Disneyland Paris - 5/5/2016
Our day began with an early morning continental breakfast at the hotel before we headed off for our day at Disneyland Paris. We left the hotel before 9:00am. The bus ride took just over an hour to the park.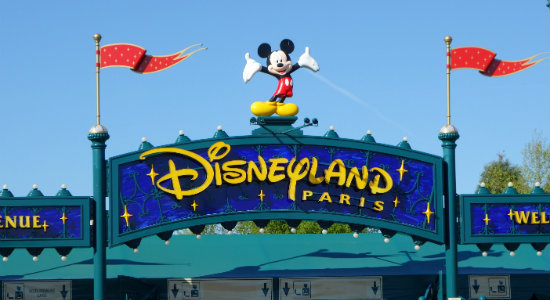 Disneyland Paris is actually two parks, Walt Disney Studios Park and Disneyland Park which is better known as the Magic Kingdom. Kouree Chesser, Jenny, Sarah and I began our time in the park on the studio side and made our way the the kingdom side later in the day. During the day I was able to gets rides on Crush's Coaster, Cars Quatre Roues Rallye, Armageddon – Les Effets Speciaux, Indiana Jones et le Temple du Péril, and Space Mountain: Mission 2. So I've added three more coasters to my track record.
At around three o'clock Sarah left Kouree, Jenny and I to join the rest of the 110 to change into uniform and prepare for their performance. The three of us walked to the central plaza where Goofy led a parade from the castle and down the main street with all of his friends, including Mickey and Minnie.
We walked a short distance to a viewing area across from Sleeping Beauty's Castle and waited for the Marching 110 to parade through and stop for their performance. The band began their parade at 4:30. The parade route which began in Fantasyland, continued past Sleeping Beauty's Castle, Central Plaza and then down Main Street USA. The band stopped three times during the parade to perform. They included Shut Up and Dance as well as Uptown Funk and Kiss You. Kouree, Jenny and I, along with several other 110 parents and friends were able to watch the performance of Uptown Funk in front of Sleeping Beauty's Castle.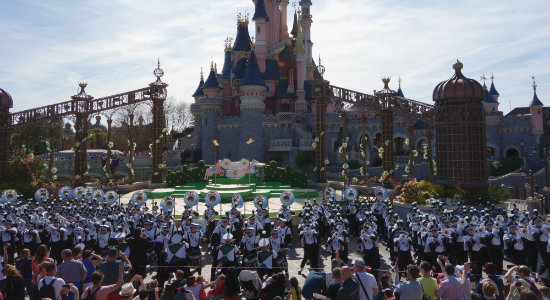 Click here to see all of the pictures from Disneyland Paris.
We ate French-American hot dogs and fries at Casey's Corner on Main Street USA. And just before we left Disneyland Park I ran back there to have another hot dog on the go.
It was a great day of sights, sounds, parades, rides and music. The weather was great with clear blue skies and temperatures in the mid-'60s. We loaded back on the buses around around 10:00pm for the ride back to the hotel.
Click here to see other various pictures from around Paris.
Tomorrow we are off to see the Palace of Versailles.