Valleyfair, Day 2 - 7/16/2015
My second day at Valleyfair was overcast with some spotty rain storms.
One of the reasons I really wanted to visit this park was the chance to see magician Ed Alonzo perform again. Iíve become a fan of ďThe Misfit of MagicĒ and his Psycho Circus of Magic and Mayhem. Once again his show didnít disappoint. Full of magic, music, dance and loads of off-kilter comedy.
I rode several of the parks other rides as well, including Power Tower, Xtreme Swing, Minnesota River Valley Railroad and Ferris Wheel.
Later in the day I met Linus and Snoopy.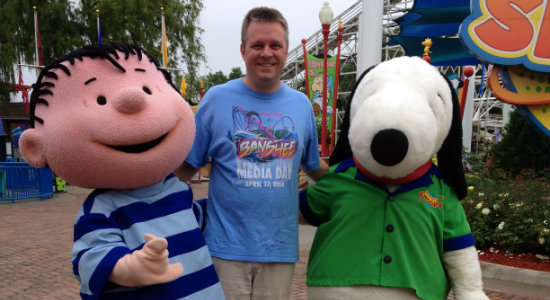 During my two days at Valleyfair I was able to conquer seven of their eight roller coasters.
Click here to view all my pictures from Valleyfair.
Tomorrow Iíll be driving to Chicago for an overnight stay and then onto home the next day.