Valleyfair, Day 1 - 7/15/2015
I drove the long way to Valleyfair. I left Kansas City early this morning and traveled north through the Missouri River Valley. On the way I made a quick crossing into Nebraska for lunch. I continued on along the western edge of Iowa into southeast South Dakota. At Sioux Falls I turned east towards Minneapolis.
Upon arrival in Shakopee, I checked into the hotel and headed directly to Valleyfair. The temperatures were in the eighties, a nice change from the previous two days in Kansas City. My main goal was to tackle the parkís two standout coasters.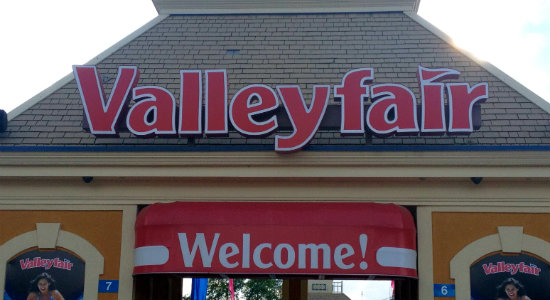 The tallest coaster at Valleyfair is Wild Thing. At over 200 feet tall this out and back steel monster has great speed over 70 miles per hour. It also has a great figure-eight turnaround.
The park has a fantastic GCI woodie called Renegade. This twisting coaster has plenty of turns and small hills to satisfy any thrill-seeker.
Click here to view all my pictures from Valleyfair.
Tomorrow Iíll be back to Valleyfair for another day of fun and thrills at the park.