Dollywood - 6/25/2014
Today Sarah and I spent the day exploring the rides and attractions of Dollywood.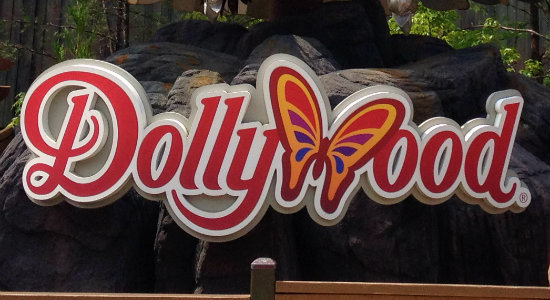 We met with Sarah's friends Tessa and Becca Hill and their family. Then we shared a trolley ride from Gatlinburg to the park. We purchased our tickets and entered the park. We split up into two group, agreeing to join Tessa, Becca and their family for lunch.
Sarah and I headed off to find the roller coasters. We rode Thunderhead, Wild Eagle, Tennessee Tornado and Fire Chaser Express.
It was getting close to lunch time and the Hills joined us for a ride on Blazing Fury. I was looking forward to a lap on this old classic. It had been thirty-three years since I had been on it. I was happy to see that the park had maintained the ride's theming and charm.
Next we ate at Aunt Granny's Buffet. It was full of comfort foods and country goodness.
We spent time with the Hills visiting the Chasing Rainbows Museum, touring Dolly's Home-On-Wheels, browsing shops and riding the Dollywood Express train.
We said farewell to the Hills and continued with more rides and sightseeing. We finished our day at Dollywood by watching the parks evening fireworks display.
Click here to see my photos from Dollywood.
Tomorrow, our ride home along the Blue Ridge Parkway.