Hersheypark, Day 2 - 6/5/2013
Our second day at Hersheypark began with breakfast at Waffle House and then we arrived at the park just before the opening at ten o'clock. Outside the gate was a six-man marching band called The Chocolate-Covered Band who entertained the guests as we waited. Once we were inside the park we came across a lady in a top hat. She welcomed us to the park and offered us a Jolly Rancher. She pulled the candy out of her magic hat.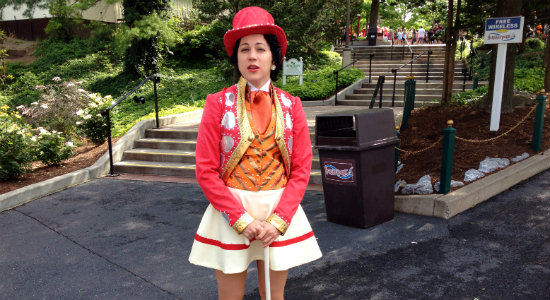 Our first roller coaster of the day was Comet. This classic wooden coaster from 1946 didn't disappoint us. It had great drops and speed.
Next I wanted to get a second opinion of Skyrush. Yesterday Sarah didn't enjoy her ride as much as I did. So today I took a solo lap and tried the outboard step this time. Now I have to agree that this ride is too forceful and not a comfortable ride.
We walked around the park getting some repeat rides on coasters we enjoyed yesterday. Near Fahrenheit we saw a camera crew shooting footage for the Travel Channel. We completed coaster surveys and received giveaways.
Another ride we enjoyed was Reese's Xtreme Cup Challenge. This ride is an interactive dark ride in which independently rotating cars.&nbsp This was only the second ride we found in the part that had a candy theme.
With a ride on Trailblazer we had completed rides on all eleven roller coasters at the park. This 1974 Arrow mine ride travels through the terrain and trees.
For lunch we ate food from Spring Creek Smokehouse in the Pioneer Frontier area of the park. I had pulled pork, corn-on-the-cob and jo-jo potatoes.
Next we watched "Our Friends from the Sea" at the Aquatheatre. This entertaining and educational show featured California sea lions and a harbor seal.
We made our way to the a joining ZooAmerica. The zoo features animals from throughout North America including bald eagle, alligators, elk and black bear.
Throughout the day we enjoyed other rides including Dry Gulch Railroad, Flying Falcon and Whip.
Late in the day we came across the Cocoa Rhythm Factory performing on the midways. It was a high-energy trio of percussionists who put on a funny and entertaining show.
It was past 6:30 and we were about to call it a day. On the way out of the park I was able to get a picture of Sarah with the Hershey's Chocolate Bar.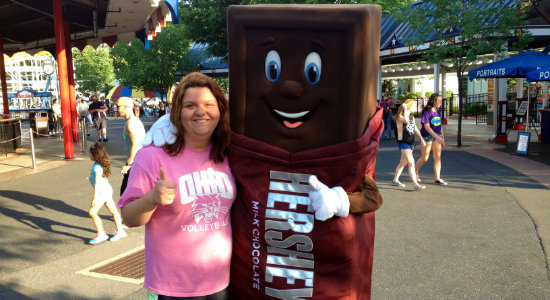 Tomorrow... the long drive to Sandusky in preparation for CoasterMania 2013 the next day.
Click here to see all of my photos from Hersheypark.