Hersheypark, Day 1 - 6/4/2013
Today Sarah and I visited Hersheypark in Hershey, Pennsylvania for the first time. We left our hotel in Harrisburg, ate breakfast at Bob Evans and arrived at the park just before opening at ten o'clock.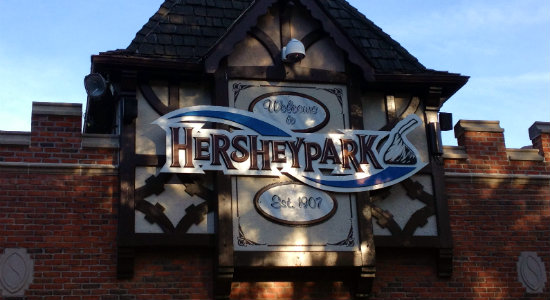 Once inside the gate, we circled around the park to the right. Our first ride was on Skyrush. It was a very good coaster and a forceful ride. It's impressive how they fit this mega-coaster over and around Comet.
Next was Sooper Dooper Looper. It was a good old-school looper and may only be my second Schwarzkopf coaster ever. It was set on a hillside with lots of trees and included a tunnel which together made it feel a bit like a looping mine ride.
We headed up the hill to Great Bear, the park's only B&M coaster. This is another great inverted coaster and features a unique helix at the beginning of the first drop then continues through the course with four inversions.
Somehow we walked right past Trailbrazer without seeing the entrance and ended up at Sidewinder. It's a standard Vekoma boomerang, but it still counts as a credit.
Next we walked right next door to Storm Runner. It was a Intamin launch coaster with the addition of inversions. The layout seemed to clover a lot of territory throughout the corner of the park.
We left the park for a bite to eat and when we returned we visited Hershey Chocolate World just outside the park. We rode the Hershey's Great American Chocolate Tour Ride. This dark ride takes you on a gentle journey through an animatronic factory showing you the many steps in the chocolate making process. As we exited the ride we were asked to participate in surveys and taste testing. Sarah completed a survey while I tasted three different chocolate syrups over ice cream. And for our time we were given Hershey Chocolate Bars.
We made our way back into the park and continued exploring. This time around to the left side of the park. Fahrenheit was up next . This is the park's third Intamin coaster that we rode. This was the first time I've ever been on a coaster with a vertical lift. It had six inversions including my first ever Norwegian loop and a ton of action is a relatively small footprint.
We headed up the next hill to Wild Mouse. Another standard mouse, but still fun.
Right across the midway was Wildcat. It's a GCI woodie full of twisting action.
Next we took in the view from the Ferris Wheel.
Lightning Racer was next. We rode both Thunder and Lightning sides of the twisting GCI racer. This was a lot of fun and a better, smoother ride than Wildcat.
After complete our first lap around the park we started to backtrack and up next was the Kissing Tower. This was one of the very few ride that actually had a candy theme. The cabin climbs 250 feet and gives a great view of the park and the town.
Sarah drove us on Twin Turnpike Classic Cars and then we rode the park's log ride called Coal Cracker.
As we walked to the next attraction we came across some of the park's characters. Sarah took a picture of me with the York Peppermint Pattie.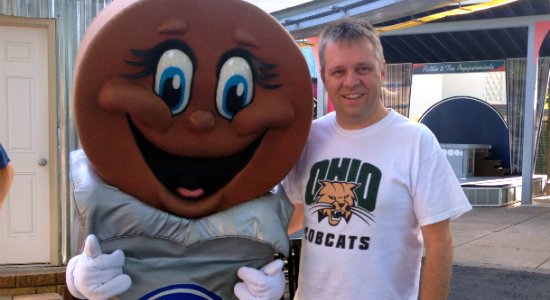 Our final ride of the day was the Monorail. This is an elevated train offers an audio tour while viewing Hersheypark, ZooAmerica, and downtown Hershey.
By now it was about around seven o'clock and we decided it was time to head back to the hotel.
Tomorrow... another day at Hersheypark.
Click here to see all of my photos from Hersheypark.