OU Bobcat Hockey wins the 2013 CSCHL Tournament Championship - 2/17/2013
This afternoon Sarah and I went to Bird Arena in Athens to see Ohio University take on Iowa State for the CSCHL Tournament Championship.
It was a hard fought battle between the 4th-ranked Bobcats and the 12th-ranked Cyclones. The large and excited crowd cheered throughout the game for the hometown Cats.
After a gruelling game the Bobcats came away with a 4-0 victory to win the 2013 CSCHL Tournament Championship.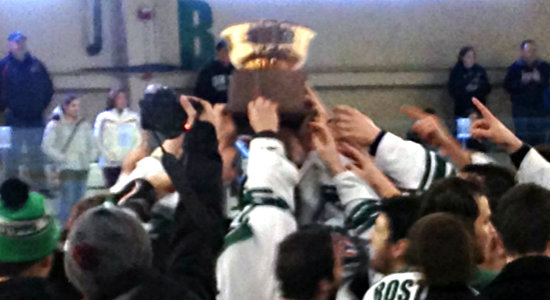 The players, coaches and fans erupted in celebration at the final buzzer. The team gathered at center ice for the presentation of the championship trophy and the tournament MVP award which was given to OU goalie Matt Michno. The coaches and players posed for a group photo before continuing their celebration.
I am so happy that Sarah and I were able to cheer our OU Hockey Bobcats to victory and witness the championship first-hand.
Click here to see all my photos of the championship celebration.