Maroon 5 - 2/13/2013
Yesterday my friend Laurie Deal called to ask if I wanted to join her and her co-worker, Becky Mount on a trip to Columbus to see Maroon 5. I said 'yes', of course.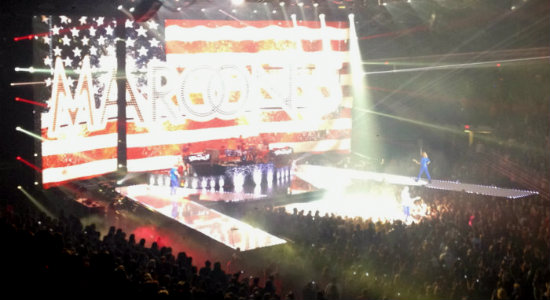 This afternoon we headed through the snow to Columbus. We stopped at Champps for a great meal before the concert.
The show was at the Schottenstein Center on the Ohio State University campus. Owl City and Neon Trees opened the show. Owl City asked the audience to turn on their cellphones for their hit Fireflies... it looked pretty cool.
Maroon 5 was great. Every song was a hit and the lights, video, lasers and sound were amazing. The video screen was super high definition. You could see the sweat and razor stubble on Adam Levine. The video wall opened up to reveal more lights from behind the stage and disco balls descended from above.
The three of us had a great time and really enjoyed the show.
Adam didn't take his shirt off. I want my money back.
Click here to see all my photos from the Maroon 5 concert.