Vermont and Six Flags New England - 8/7/2012
My first full day in New England began with a quick trip to Vermont. It was about an hour and a half drive from the hotel in Cromwell, Connecticut through Massachusetts to Brattleboro, Vermont. Brattleboro was the first exit off the interstate after crossing the state line. I drove through the center of town and picked up a quick breakfast before heading back south into Massachusetts again.
I arrived at Six Flags New England in Agawam, Massachusetts just before the gates opened. This was, of course, my first visit to the park and the third Six Flags park I have been to.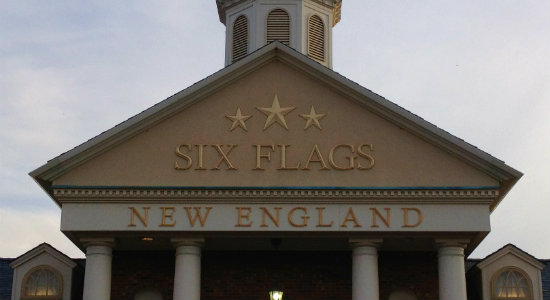 The first coaster of the day was Thunderbolt; a classic wooden coaster with a great double-down. My next coaster was Bizarro. I was really looking forward to riding this coaster. It is often ranked as good as and sometimes better than Millennium Force at Cedar Point, which I think is the best coaster I've ever ridden. Bizarro has a better layout than Millennium Force with more twists, turns, airtime hills and theming. But the trains are not as comfortable making the ride less enjoyable. Otherwise, this would have become my new number one coaster.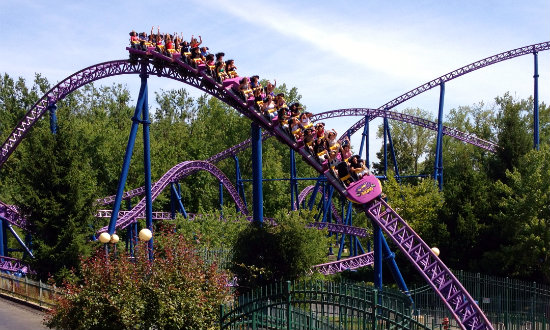 The rest of the day was spent riding most of the other coasters at the park. Batman - The Dark Knight, Cyclone, Flashback, Gotham City Gauntlet, Mind Eraser and Pandemonium. I also wanted to ride the park's newest coaster, Goliath. It is a Vekoma giant inverted boomerang which I have never ridden. The ride was down for maintenance.
For lunch, I ate BBQ pork at JB's Smokehouse in the Crack-Axle Canyon section of the park. The food prices were as high as any other park and the service wasn't good at all. Otherwise I thought the park staff was very helpful and friendly. The park itself was beautiful, clean, and well maintained.
I spent my day getting extra rides on many to my favorite coasters in the park, especially Bizarro.
I had a great day at Six Flags New England and stayed almost until closing.
Click here to see my photos from Six Flags New England.