BooBuzz 2011 - 10/7/2011
Today my friend David and I went to Cedar Point for BooBuzz 2011 hosted by CoasterBuzz Club.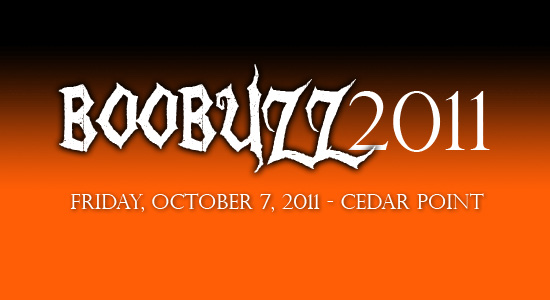 We checked into our hotel around 2:00 and arrived at the park around 3:00. Next we were off to Millennium Force for an hour of ERT from 4:00 to 5:00.
I had a blast getting ride after ride on Millie. I set a new record for myself with 10 laps in an hour on Millennium Force.
Next for BooBuzz was a walk through tour of Cedar Point's newest outdoor haunt, Blood on the Bayou. The haunt utilizes parts of the recently closed Paddlewheel Excursions boat ride. including one of the boats, "Muddy Rivers" and Russel "Rusty" Stewle of Swine Coolers fame. The haunt begins across from Power Tower right behind the Top Thrill Dragster photo building, continues under Iron Dragon and exits onto the midway under Top Thrill Dragster near the Dragsters lockers.
From six to seven we enjoyed a buffet dinner in the Coral Courtyard. The meal featured Fried Chicken, Chili Dogs, Pasta Salad, Baked Beans, Baked Macaroni & Cheese, Cookies and Chocolate Frankenstein Heads filled with Chocolate Mousse. The Frankenstein dessert was a great addition to the dinner this year, but it makes me wonder what kind of sweet surprise they'll have in store for me next week when I come back for Boeckling's Banquet.
We spent the rest of the evening hitting as many rides and haunts as we could before midnight. We followed the screamsters from the Coliseum to the Iron Dragon Midway for the appearance by the Overlord. We faced our fears at Blood on the Bayou, Maniacal Mechanical Screamworks, CarnEvil, Cornstalkers, Fear Faire, Terror Island, Eternity and Happy Jacks Toy.
This was a great BooBuzz. Thank you Bryan Edwards at Cedar Point and especially Jeff Putz at CoasterBuzz.