Boeckling's Banquet - 10/15/2011
Today Jenny, Sarah and I were at Cedar Point for Halloweekends. This was Jenny's first trip to the park during their Halloween events. The highlight of our weekend was Boeckling's Banquet, a very special dinner inside one of the parks haunted houses.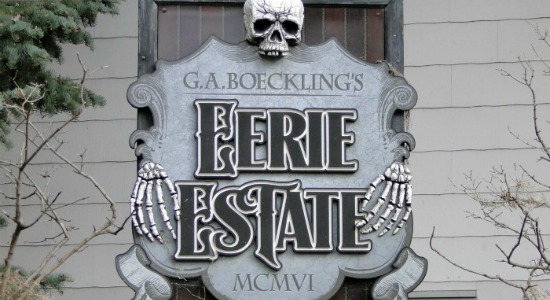 George A. Boeckling was an Indiana businessman who, with his partners, bought a struggling Lake Erie resort called Cedar Point in 1897 and turned it into "the Queen of American Watering Places." The administration building he built in the center of the park in 1906 served as the headquarters for what would become Cedar Fair. Until a few years ago, when a new office building was constructed nearby. The park kept the old building and turned it into the "Eerie Estate", a haunted house packed with an collection of antique furniture, evil portraits and the spirit of G.A. Boeckling, who died in 1931 and is buried in Sandusky.
Once a day during the park's Halloween events the house hosts an exclusive gourmet dinner before the estate is opened to the public. The hosts for our dinner was two of Mr. Boeckling's servants; Lucious, the Butler, and Sara Piano, Mistress of the House.
We toured the first part of the house and took our seats at the head table in the main dinning room. The meal included a goblet of water which we were later allowed to take home with us and a glass of wine. We were given a fresh salad of greens with strawberries and oranges and served with a delicious raspberry vinaigrette dressing (reminding me of a small vial of blood) on the side.
For the main course Jenny and I choose the Lobster Tail and Petite Filet Mignon. Sarah had the Filet Mignon. Each meal also came with Twice-baked Potato, Buttered Asparagus Spears, rolls & butter and a garnish of fresh fruit.
The special dessert was Chocolate Chocolate Chocolate Death. It was an incredible chocolate cake with a chocolate mousse filling, and decorated with chocolate shavings and chocolate straws.
After the meal, the head of catering spoke to us and thanked us for joining them for the dinner. He reminded us of how special and exclusive the meal is. There were tens of thousands of guests in the park and only twenty-five of us were able to enjoy today's Boeckling's Banquet.
We finished the tour of the rest of the estate before exploring the park's other haunts and rides.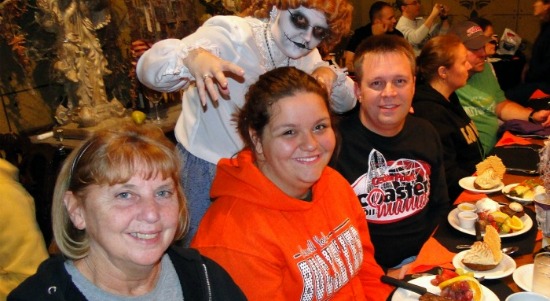 Sara Piano stalks her prey; Jenny, Sarah and me.
It was truly a great meal that we wont soon forget.
Click here to check out my pictures of Boeckling's Banquet.