Sarah at the final Space Shuttle launch - 7/8/2011
For the past few days Sarah has been on vacation with Mom, Crissy and Jake. Meanwhile, I've been working at the office.
This morning the vacation gang was in Florida to see the launch of the final Space Shuttle mission. In my mind I pictured Mom driving around in circles trying to find a place to park and at the last minute one of them glances out the window and says "There it goes". So I started to text with Sarah several hours before the scheduled launch to check on their progress. Sarah gave me enough detail of where they were I was able to look up their location on Google Maps. It looked like they were about 12 miles from the launch pad looking over water with on obstructions. They actually had a very good spot to watch from and made it there in plenty of time.
While they watched at the scene, I follow the launch live on NASA TV on the internet from my office desk. Liftoff was at 11:29 am. At 11:30 Sarah posted "Liftoff!(:" as her Facebook status. A short time later she uploaded this picture of Atlantis soaring into the sky.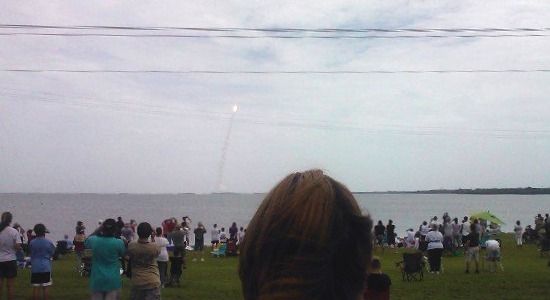 I was very excited that Sarah was able to witness a shuttle launch and be a part of history. And I'm a little jealous too. Despite her original misgivings about seeing a launch, I could tell from her texts and online posts that now having experienced the event she is more that excited. I wish I could have been there with her.