Sarah's Baptism - 6/23/2009
All this week Sarah is attending church camp and this evening Crissy, Jake, Mom, Julie and I drove to Camp Hervida to witness Sarah's baptism. The long drive to the camp near Waterford, Ohio took about an hour.
When we arrived the campers were attending worship service in the shelter house, so we took this time to check out the camp and to look into Sarah's cabin.
Once the service was completed we joined the others at the pool for the baptism. Family and friends gathered at the side of the pool while the other campers watched from along the hillside just outside the fence.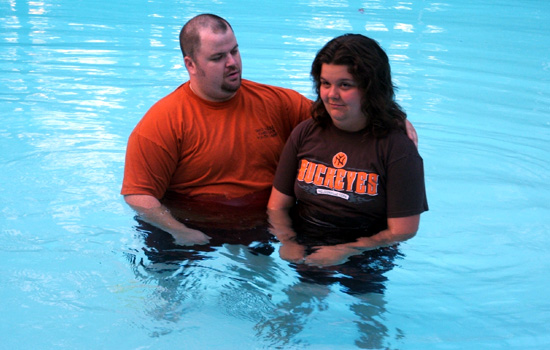 Jay D. Smith performed the baptism with Sarah as they prayed and immersed her into the water. The campers them sang a couple songs as Sarah stepped from the pool at receive hugs and congratulations from all of family and friends there.
I have to admit that a tear did come to my eye. I am so proud of my Sarah.
Family and I visited with Sarah for a while afterwards before driving home and leaving Sarah to finish her week at camp.
Click here to see Crissy's pictures of Sarah's Baptism.