Walking in DC at Night - 11/18/2022
I invited Shawn to join me on my next visit to Sarah's place and Washington, DC. Shawn agreed and I picked him up in Washington, Pennsylvania, south of Pittsburgh on my way to Rockville. After an errand for Shawn at Marymount University in Arlington, Virginia, we arrived outside Sarah's apartment to pick her up and begin our evening tour in DC.
But first Sarah and I introduced Shawn to the Silver Diner in Rockville.
We drove to the National Mall and parked near the Washington Monument. A strong, chilly wind was blowing. At Shawn's suggestion, we visited the World War II Memorial next. He was interested in seeing the Kilroy graffiti hidden on the back of the memorial.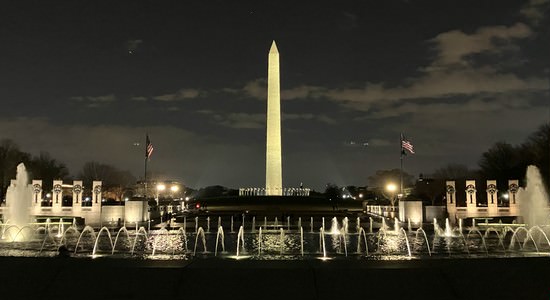 Sarah had ventured off on her own towards the White House. She texted me to say that we should join her. The interesting scene was that the Secret Service had extended the security perimeter from the White House an additional block in all directions. This included all of Lafayette Square, the Eisenhower Executive Office Building and the Treasury Building. This was the first time I have ever seen the White House with virtually no other people around. We had no idea what the purpose of this extra perimeter was for, but later we found out that President Biden and the First Lady were hosting a wedding for their granddaughter on the South Lawn tomorrow morning.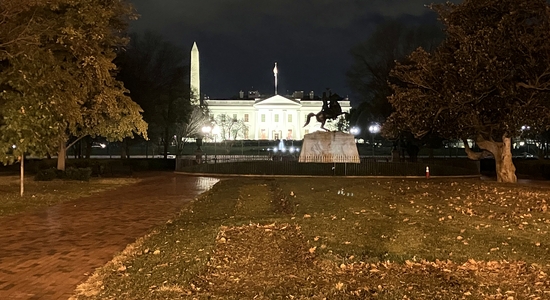 As we completed our circle around the White House, we came upon the World War I Memorial at Pershing Park. The unfinished memorial was formally unveiled on April 16, 2021 and incorporates the existing memorial to General John J. Pershing, commander of the American Expeditionary Forces during the war.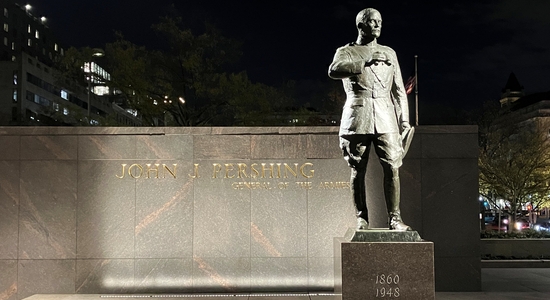 The memorial's central feature, a sculpture titled A Soldier's Journey, is scheduled for installation in 2024. Until then, artwork showing what the final product will look like will be in its place.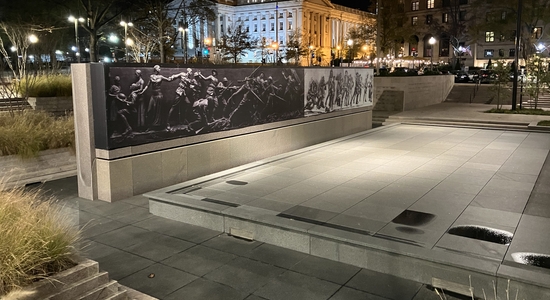 And with that we were back to the car and driving back to Sarah's apartment. Tomorrow, a full day of touring around DC.