iPhone SE 3rd Gen - 11/16/2022
After more than four years of owning my iPhone SE, today I stopped by the Apple Store at Easton Town Center in Columbus and purchased the latest iPhone SE third generation.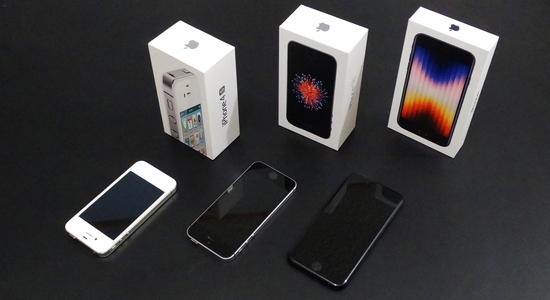 iPhone 4S May 2012, iPhone SE April 2016 and iPhone SE third generation November 2022
I've had my SE since April 27th 2016 and it has been a great phone. But after six years the battery life has noticeably decreased and some apps have crashed a few times.
The new phone is Apple's third version of the SE. This is also my third iPhone. The first of which was an iPhone 4S I bought in May 2012.
I'm looking forward to exploring the improved camera on this phone. And I can tell already that the glass back of this phone is extremely slippery. So much so, I may have to, for the first time ever, I may have to purchase a case for my phone.