Kings Island 50 - 6/5/2022
I made my third trip of the year to Kings Island to experience more of their 50th anniversary celebration. Throughout the day I rode all of my favorite coasters including Banshee, Racer, Orion, Flight Deck, Mystic Timbers, Adventure Express, Diamondback, Backlot Stunt Coaster, and The Beast.
One of the new experiences that has opened since my last visit, just three weeks ago, is at Tower Gardens. A collection of Eiffel Tower miniatures, each decorated with various artwork and paint schemes of most of the roller coasters in the park.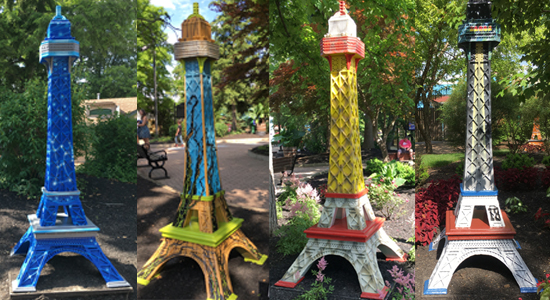 Click here to see all of my pictures of Tower Gardens.
Orion, Mystic Timbers, Diamondback and Flight of Fear.
Tower Gardens also featured new giant postcard-themed signs detailing the history of the park, as well as inscribed granite stepping stones chronicling each year in the park's evolution.
As the day drew to a close I made my way to International Street to take my position for the best viewing stop for the day's finale. I patiently waited in front of the Royal Fountains near the main gate. And the spectacular show began at 10:00.
"Fun, Fireworks & Fifty - A Kings Island Nighttime Spectacular!', Kings Island's brand-new nighttime finale, created to pay tribute to the park's 50th anniversary season. And presented guests with a nostalgic journey through the amusement park's first five decades of fun, thrilling moments and memories.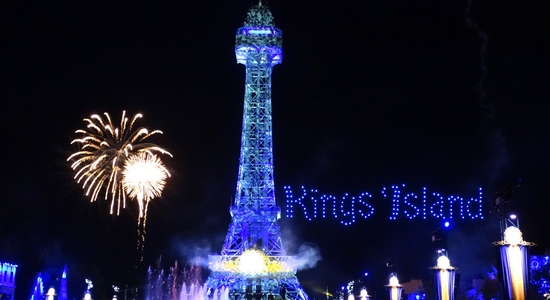 The soundtrack included music and historic soundbites. Barry Williams, best known for his role as Greg Brady in the 1970's television series, "The Brady Bunch", narrated the show.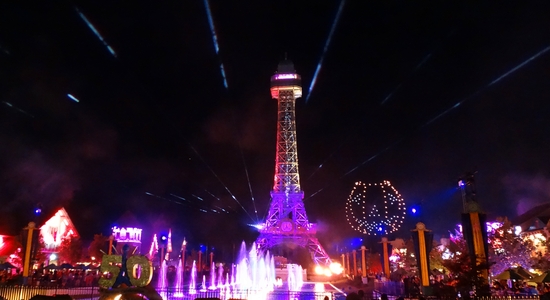 The show was produced with fireworks, lights, lasers, fog, fire, and new for the park, 200 drones. From my fantastic vantage point looking across the fountains, towards the Eiffel Tower, the fireworks and drones beyond created a vibrant, colorful and energetic atmosphere.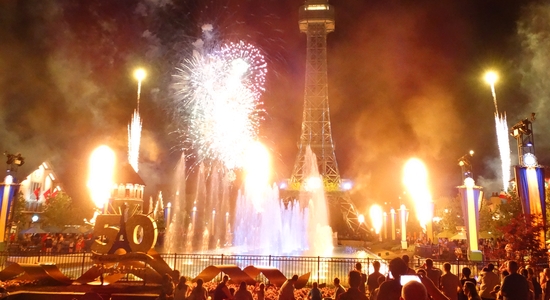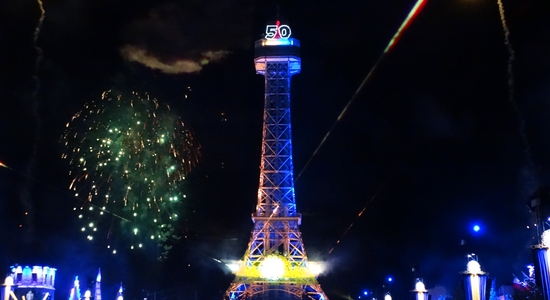 Click here to see all of my photos of Fun, Fireworks and Fifty.
Kings Island has really stepped up its game with this awesome show. This was, by far, the best presentation in any of the Cedar Fair parks. I loved this show very much. Very impressive.