Freedom 50 at Muskingum County Speedway - 7/3/2021
Our second day of racing began as Dad, Tommy, Hannah and I drove to the Muskingum County Speedway north of Zanesville. The evening's main event was the Lucas Oil Late Model Dirt Series along with Modifieds and Four Cylinders. We arrived mid-afternoon under mostly clear skies and a light breeze.
We tried to find a good place to sit in the stands near turn one, but most of the seats were already marked off with blankets. We ended up having to settle for seats only about six rows up from the front. We knew that we would be battling a lot of dirt and dust thrown into our faces throughout the evening.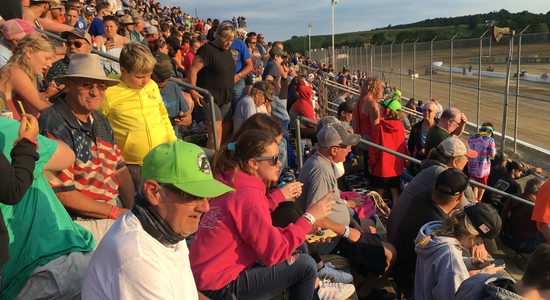 During qualifying a couple took their seats near us, but immediately left after just one group of cars sped past and threw a cloud of dirt in their direction. It was clearly too much for them to take.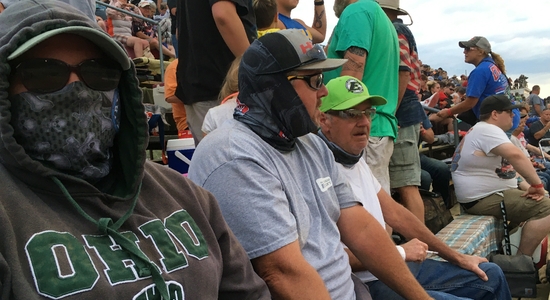 After hot laps and qualifying the Freedom 50 started with Spencer Hughes (11H) on the pole. But it was Tim McCreadie (39) who jumped to the lead to complete the first lap. There was a lot of clean racing and only a couple cautions. For the second night in a row I kept my eye on Devin Moran (9) and just like the night before he slid back in the pack, starting 4th and finishing 11th. I was also watching Josh Richards (14). He battled around 10th place until he had to go to the pits to replace a flat tire under caution. He restarted at the rear of the field and then managed to work his way up through the pack to finish in 12th position. Tim McCreadie (39) won the race, leading all 50 laps. The victory was worth $15,000, the highest purse in the track's history. Kyle Bronson (40B), Spencer Hughes (11H), Jonathan Davenport (49) and Gregg Satterlee (22) rounded out the top five.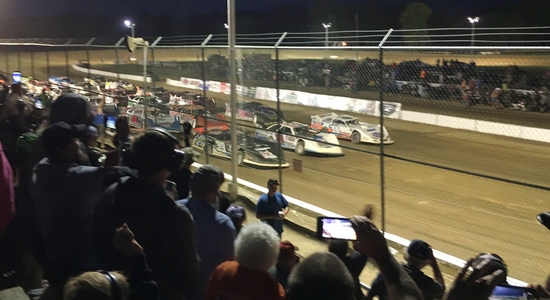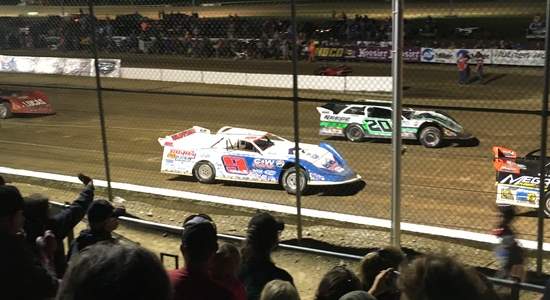 The light breeze that we enjoyed earlier turned out to be a detriment as it kept blowing even more dirt from the track right into the stands where we were sitting. We had to make fun of a lady who sat a couple of rows down from us as she was decked out in her festive Fourth of July attire which was completely inappropriate for dirt track racing.
After the late-model feature the track presented their annual Independence Day fireworks display. It was quite a nice show.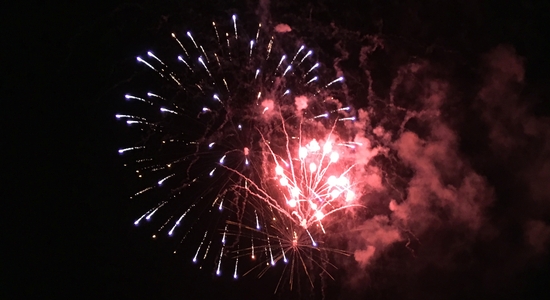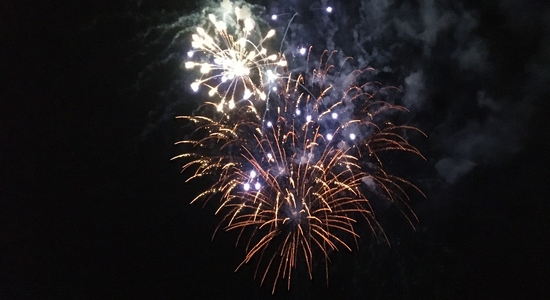 Following the fireworks we headed to the car for the ride home. As we made our way through the parking area we saw dozens and dozens of cars covered in a thick layer of dust. Luckily, we parked as far away from the track as we could and Dad's car had minimal dust covering it. We all had a good time together out for a night of racing.