Flute Academy Flute Choirs - 12/14/2019
This weekend I was visiting Shawn in Pittsburgh and he invited me to attend a performance he was participating in. It was the Flute Academy Flute Choirs Holiday Concert held in the First Trinity Evangelical-Lutheran Church in the North Oakland neighborhood.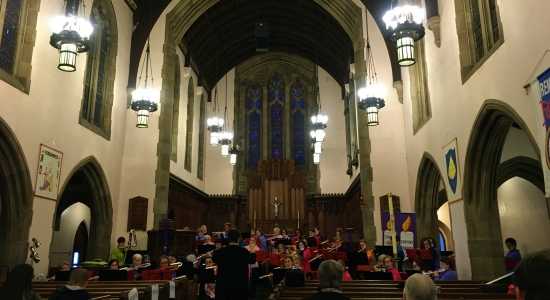 The concert included two groups; Flutations, made up of younger players and City Flutes, comprised of adult flutists. They each performed separately and then together for the final four pieces.
The choirs filled the church beautifully with festive holiday compositions. Some of the notable selections were Blue Christmas, Christmas Day, Troika from Lt. Kije Suite, You're a Mean One Mr. Grinch, White Christmas and the finale was Fantasy on Ukrainian Bell Coral.
The church provided such a great setting for the concert with grand acoustics and architecture. What a festive event for this holiday season.