More Exploring in Houston with Sarah - 7/21/2019
After a restful morning we began our day with lunch. I wanted Sarah to introduce me to the regional food favorite, Torchy's Tacos. We walked off of campus to an area of town known as Rice Village. Torchy's serves Mexican street food in inventive varieties. I had a wonderful vegetarian taco and street corn and shared chips and queso with Sarah. This was a really good lunch.
Next we rode the Metro to downtown, strolled around and found the Buffalo Bayou Park. The park begins on the west side of downtown and spans west for nearly two miles. The heat was oppressive but we spent a good while enjoying the park.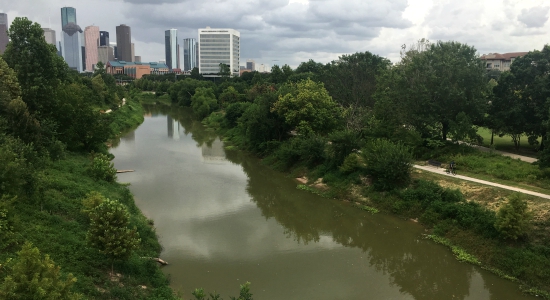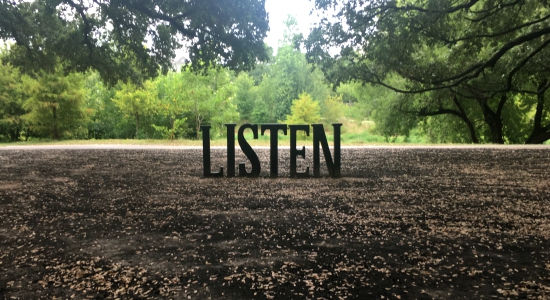 Click here to view all of my photos from Buffalo Bayou Park.
The afternoon heat began to conjure up some thunderstorms in the distance, so we decided to get a ride back to campus. We relaxed in our rooms and rested as the storms passed through the city.
It was early evening and we headed out again. We walked from campus, through the corner of Hermann Park and park of the museum district to Barnaby's Cafe on Binz St. This place had a vibe all its own. We both had black bean burgers and fries. This was another great meal.
We walked around a small portion of Hermann Park particularly around the reflecting pool.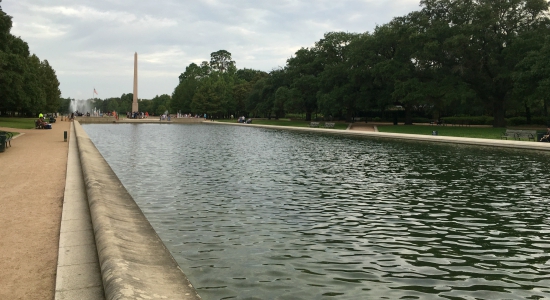 Click here to see my photos of Hermann Park.
In the park is Miller Outdoor Theatre which offers free performances. This evening Theatre Under The Stars was presenting Seussical. Sarah simply walked up to the ticket window and asked for two free tickets. We then strolled around the perimeter of the amphitheater. The area is wide open and there are no fences, so obviously the shows are free. The tickets are just for the seats and the grass area is open to anyone on a first-come-first-serve basis. There was even a large sign pointing to where people could pick up free blankets to sit on the grass. As we took our seats I felt cool air blowing on us. Wow, they were running air conditioning at an outdoor theater. I was very impressed with the way all of this was being put on. This really is a first class operation.
Then it was time for the musical to begin. The production was much better than anything I had expected. The show was full of energy, music, laughs and surprises, including a drumline, live video broadcast from within the audience and much more. Seussical had a great story too. What a great evening of outdoor theater Sarah and I had together.