London, Day Three - 4/29/2018
Our tour of London continued this morning with a ride on the Underground to see Buckingham Palace. We made your way through the crowds and took our position at Victoria Memorial to get the best view possible of the palace.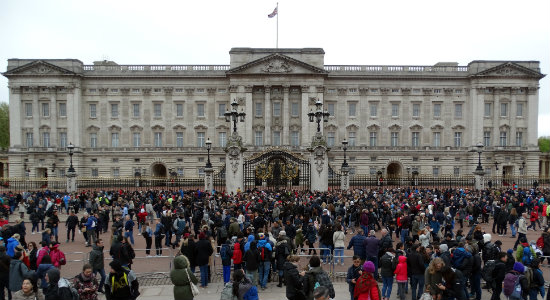 From time to time there were several processions of bands and officers through the palace gates. Between the activities of the guards, the bands played several musical selections. Several of the songs sounded familiar, but one in particular was very recognizable. Just a few seconds later the crowd identified the tune as well and began singing along. It was Our House by Madness. There was such a cool vibe in the air as the band played and the people sang along. I thought it was very cool that the royal guard band would be playing a pop hit. And the crowd seemed to love it too.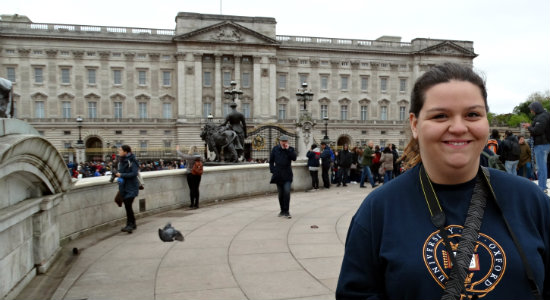 Click here to see my pictures of Buckingham Palace.
Next we walked along Birdcage Walk next to Saint James Park. As we walked past the the Guards Museum we noticed a group slowly getting into parade formation. They appeared to me to be current and former guards. Once they were lined up, they proceeded to march out of the museum's grounds and along Birdcage Walk.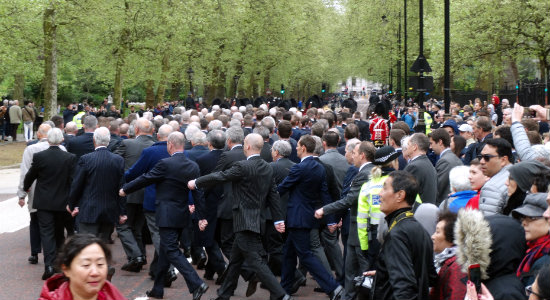 Once the procession passed, we joined the crowd of onlookers and followed the guards. The procession turned and we ventured off in another direction towards Westminster Abbey.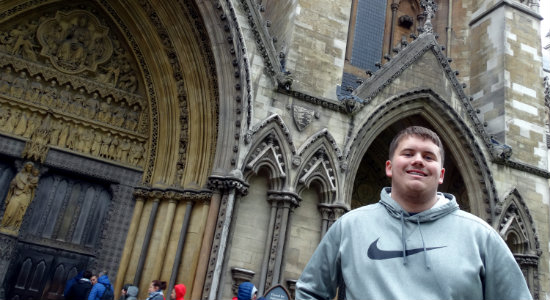 After seeing the abbey, Jenny and Jake headed to the London Eye, while Sarah took me on a short tour of our own. We visited the Graffiti Tunnel underneath the train platforms of Waterloo Station.
Sarah wanted to show me The Vaults theater where she had seen a performance during her semester studying here in London, but unfortunately the theater was closed at the time.
We strolled through the nearby neighborhood looking for a place to eat. We found a Cuban restaurant called Cubana. I ordered the Cuban style pulled pork, rice, black bean and plantains.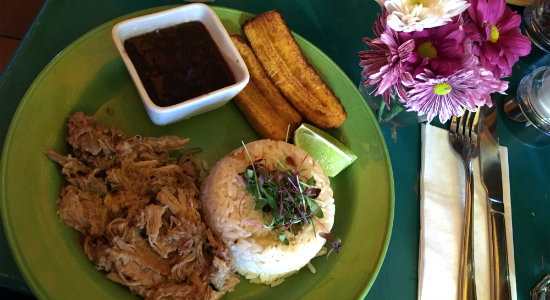 Sarah and I made our way back towards the River Thames and the London Eye to meet up with Jenny and Jake. We met up with them at the Great British Fish and Chips on The Queens Walk.
We took a short bus ride to Trafalgar Square. This historic open public space is full of statues and fountains and is a great place for art, music and people watching.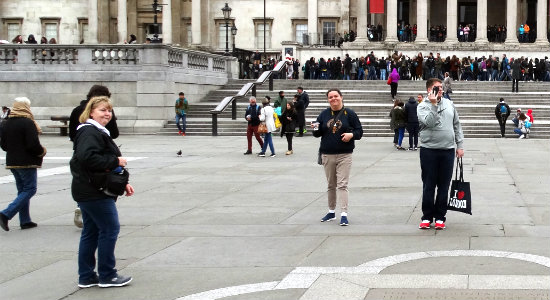 Click here to see my pictures of Trafalgar Square.
Immediately adjacent to Trafalgar Square is the The National Gallery. This massive art museum features masterworks of western european painting.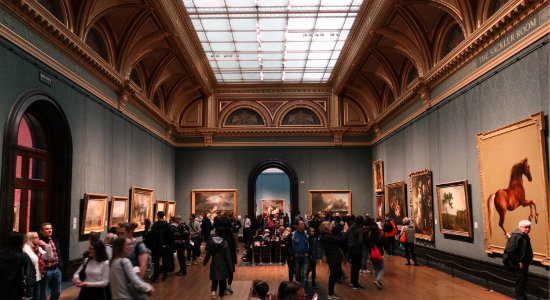 Sarah and I explored the vast collection of paintings together. She told me about her final project for her art history class where she had to select a work of art from the Renaissance, research it and write a paper about it. Sarah had viewed the piece at the gallery as part of her research. The Wilton Diptych is a painted portable altarpiece from 1395-1399 containing a portrait of Richard II. We spent several minutes observing this piece and Sarah told me about many of its details and history. Sarah had a silent moment to say farewell to art piece before we left the hall.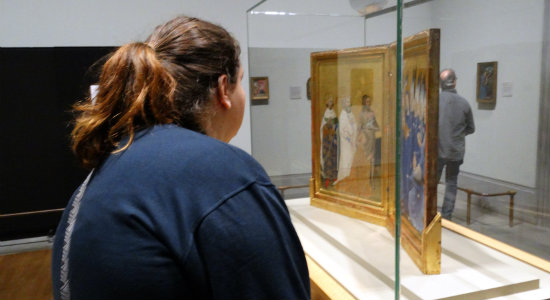 There were so many classical painting to see throughout the gallery's multitude of halls.
Next, we checked out Europe's busiest shopping street, Oxford Street. Sarah took us to one of her favorite clothing stores, Primark. The store was packed with shoppers in every aisle.
Once we were back at our hotel we had pizza delivered. We were able to wind down from our busy day touring around the city on this cold and windy day.
We were in need of a few basic supplies so we headed to Kings Cross Station. I had some body aches from all of the walking over the past few days, so we stopped at a Boots Pharmacy. Since we were already at Kings Cross Station, I wanted to check out the size of the crowd at Platform 9 3/4. If the line was short enough, maybe Jake could get his photo taken there. Amazingly, even at 8:30pm the queue was completely full.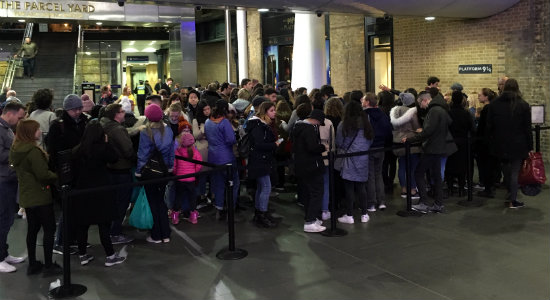 So we simply headed back to the hotel to relax and get a good night's sleep.
Click here to see various pictures from around London.
Tomorrow will be another day of London sightseeing.