Hallowpalooza X: A New Decadence - 10/25/2017
Julie, Sarah and I went to Memorial Auditorium to see the School of Music's annual Halloween concert, Hallowpalooza X: A New Decadence.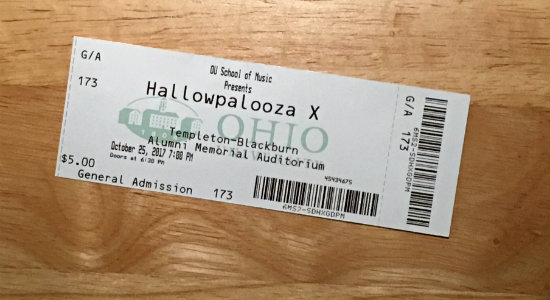 The concert featured student ensembles, and full bands from the School of Music at Ohio University. We heard a wide array of performances including, Axel F by the oboe ensemble, 16 trumbones belted out I Wanna Rock N Roll All Night by Kiss, Tubas played the The Throne Room and End Title from Star Wars: A New Hope, the orchestra played Night on Bald Mountain by Modest Mussorgsky and also Sprach Zarathustra by Johann Strauss and The Final Countdown by Europe.
It is always such a great delight to see Hallowpalooza each year.