Chasing the Dragons - 8/7/2017
Two weeks ago, on July 24th, Universal Orlando officials announced that Dragon Challenge would close after September 4, 2017, to make way for a new Harry Potter attraction. As a pair of the most fabled B&M inverted coasters in the world, I just had to get my coaster credits before it was too late. Last week I booked my flights and hotel room for this spur of the moment adventure.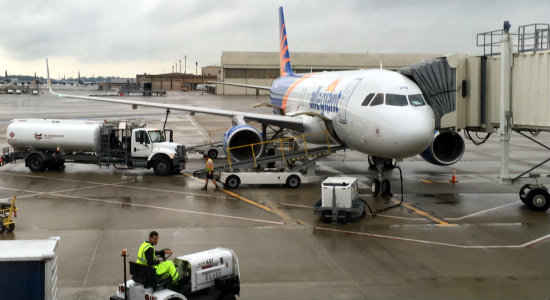 My flight to Orlando was on Allegiant Air and this was my first time flying with this airline. It was also my first time flying out of Rickenbacker. Getting to the airport was easy and parking was a breeze. It was just a short walk to the terminal. The plane and terminal were clean and modern. I will definitely fly with Allegiant again. Once I landed at Sanford Airport I climbed aboard the prearranged shuttle van to the hotel. It was a 45 minute ride, but it was well worth the savings on the airline tickets.
I was impressed as soon as I arrived at Universal's Cabana Bay Beach Resort. The retro-1950-60's design and architecture of the hotel was amazing. Most other buildings would try to hide their mid-twentieth-century heritage, but his modern resort embraces the style and celebrates it. I checked in at the sprawling lobby. I made my way past the gift shop full of Universal merchandise, the massive cafeteria with its giant TV screen showing vintage ads from the 1960's and up to the fourth floor to my room.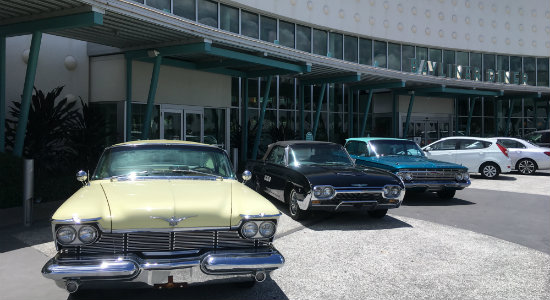 I rode the free shuttle bus from the hotel to Universal CityWalk. I spent some time browsing the shopping locations and checking out the eating options. I finally decided to have dinner at the NBC Sports Grill & Brew where the wait staff were dressed as NBC pages.
I returned to the hotel for a relaxing evening. I spent to time floating along the in the lazy river beneath the palm trees.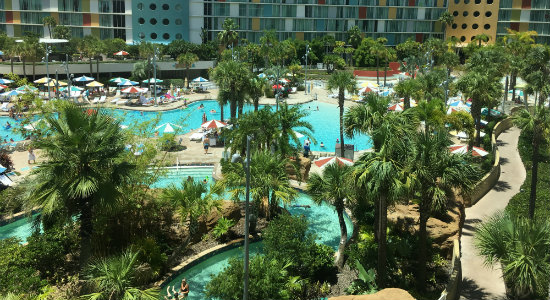 I capped of the evening with dessert at Galaxy Bowl. Yeah, the Cabana Bay Beach Resort has a ten-lane full service bowling experience themed from the 1950s with full service restaurant.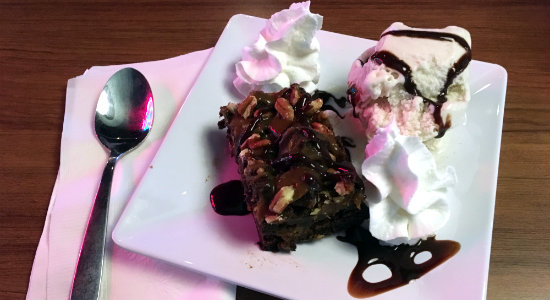 Who would have ever imagined that my day would begin at home and end with me eating a Rocky Road Brownie Sundae in a bowling alley?
Tomorrow, a day of rides and thrills at Islands of Adventure.