Valravn - 5/20/2016
Sarah and I traveled to the roller coaster capital of the world, Cedar Point, to ride their latest scream machine, Valravn.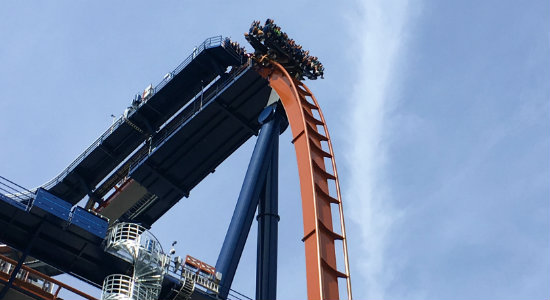 It has a ginormous first drop and big elements. This B&M floorless dive coaster is 223 feet tall with a drop of 214 at 75 miles per hour. There are three inversions and 3,415 feet of track. This was only my second dive coaster, so it easily became my favorite of this variety. It is the tallest, fastest, longest, with the most inversions of any dive coaster. But is still seems too short of a ride.
Click here to see more pictures of Valravn.
Sarah and I also rode many of the parks other rides and coasters. And we enjoyed lunch at Famous Dave's Bar-B-Que. It was a cool spring day with a strong breeze off of Lake Erie. It was a great day of coasters and fun with my Sarah.