Notre Dame and Dinner Cruise - 5/9/2016
We ate our breakfast at the hotel. Since the beginning of our European stay I had enjoyed a croissant each morning, but now they were getting a bit tiresome. At least this was our last continental breakfast on our trip.
Today was our final day to visit the sites of Paris. There were no planned tours and no transportation was provided, so were relied on the Metro to get us around the city as we set our own schedule.
We decided to visit the famous Notre Dame, formally known as Notre Dame de Paris, which means "Our Lady of Paris". The medieval Catholic cathedral was grand in size and beauty.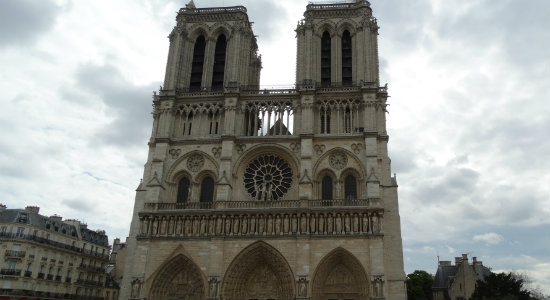 We toured the inside of the sanctuary first. Just inside the church is the holy water font, where holy water is kept for use by churchgoers as a sacramental that recalls baptism. I saw a lady refilling her water bottle by dipping it into the holy water and I about lost my mind.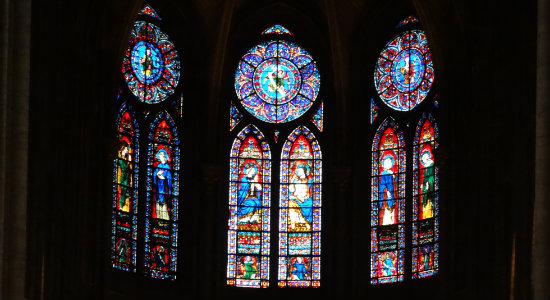 We continued our visit by walking the streets circling the cathedral. In all, we spent over an hour visiting Notre Dame. All of its sculptures, stained glass windows, artworks and gothic architecture were impressive.
Next, we shopped along a street near the cathedral, Rue d'Arcole. About a block or two from the cathedral was LeParvis, a cozy restaurant where we ate lunch. I ordered the pasta carbonara. It was very good.
We took the metro back to the hotel where we relaxed, took a nap and packed our luggage for our trip home tomorrow.
We put on our dressy-casual attire and boarded the buses around 7:00pm for the ride to our dinner cruise on the Seine River.
The dinner was aboard an enclosed watercraft that still allowed a complete view outside. For the first time since arriving in France we encountered our first rain. A very light rain fell against the large windows of the boat as the were served our meals.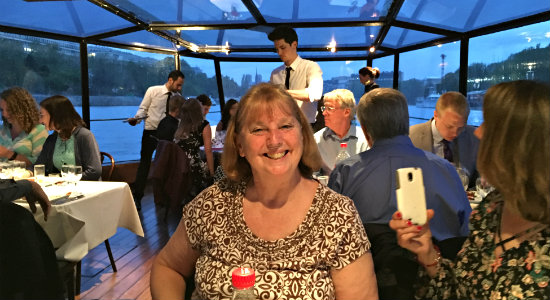 Dinner included a selection of four appetizers, the main course of meat and vegetable and completed with an array of four desserts.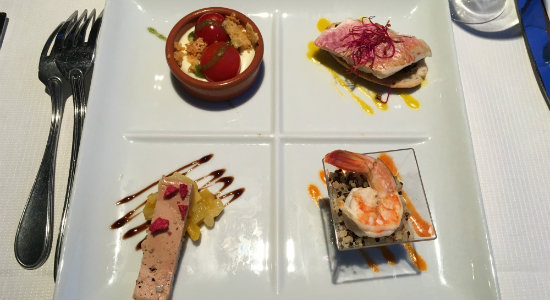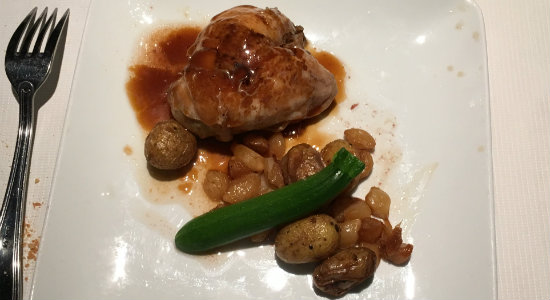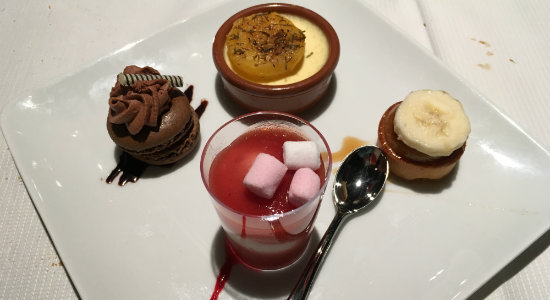 We toured past the cathedral of Notre-Dame, the Louvre and the Eiffel Tower. At the midway of the cruise the boat turned at the point in the river where a replica of the Statue of Liberty stands on the point of an island. The boat made it's pirouette at just the right point for the Eiffel Tower to appear just behind Lady Liberty. During the turn, Frank Sinatra's rendition of "New York, New York" was played throughout the dinner hall. Most everyone joined in and belted out the lyrics.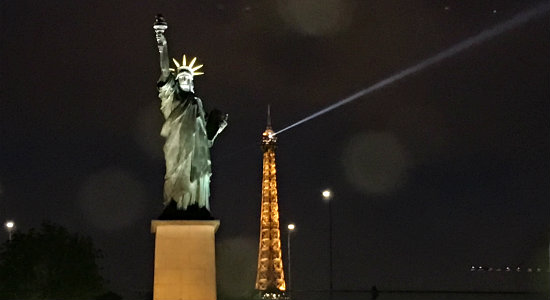 This was a very special moment. One that I will never forget. One of so many that I have experienced during this great trip to Europe.
Tomorrow we make your flights back home to Ohio.