Charles Bolden - 7/1/2015
Sarah and I attended a public lecture by NASA Administrator Charles Bolden held at the Baker Center Ballroom. The presentation was one of the distinguished lectures as part of the International Space University hosted this summer at Ohio University. The event was attended by hundreds of campus and community members, and participants of ISU Space Studies Program.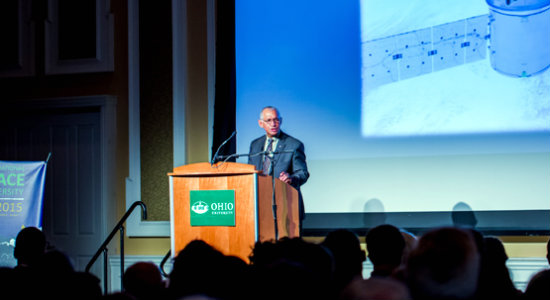 Mr. Bolden spoke of NASA's accomplishments as well as its future goals and the need for international cooperation. He remarked on the 25th anniversary of the Hubble Telescope and the Curiosity rover on the surface of Mars. He promoted the agency's ultimate goal of putting humans on the red planet.
With his words and passion, he encouraged the crowd to get involved in space endeavors. Mr. Bolden's biggest challenge to those in attendance was to revolutionize spacecraft propulsion.
It was an honor to hear and see the NASA Administrator and I'm glad Sarah was with me to share the experience.