Blizzard Beach and Sleuth's Mystery Dinner Theater - 6/2/2014
Today was the first full day of the Nelsonville-York Marching Band's five-day trip to Florida. We started yesterday afternoon when we loaded up the bus at the high school and made the seventeen-hour overnight drive to arrive in Orlando this morning. Today's events include stops at Disney's Blizzard Beach and dinner this evening at Sleuth's Mystery Dinner Theater.
After sorting out a ticket snafu between the tour company and the park we made our way into Blizzard Beach. The entire park is themed to be a winter resort complete with a ski lift, a snow-capped mountain and ski jumps. The concrete is painted white and shaped to look like snow drifts. The park has numerous tubes and slides, a huge wave pool and a lazy river the encircles nearly the entire park.
Jenny and I spent some time hitting a few slides. Then we met up with Sarah to meet Tyler and his girlfriend Sara. We rode one of the highest rides in the park, some slides and drifted down the lazy river.
After a while some of the group rested in the shade and I headed off for more rides.
One particular tube ride, Downhill Double Dipper, was especially memorable. As I was waiting my turn to splash down the chute, the ride-op said that if you wanted to go faster you should flatten out your body. I thought "Sure, I want to go faster". So for the entire length of my ride I kept my body as flat and stiff as I could. Once I hit the landing pool at the bottom of the ride I was moving pretty good. Usually riders travel about half the length of the pool when they stop. I shot across the entire length of the pool and slammed hard into the inflatable barrier at the far end. Wow, what a ride.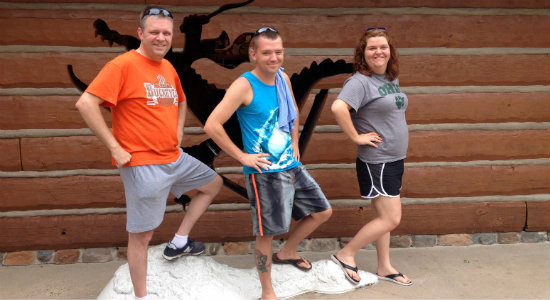 Me, Tyler and Sarah
At the end of our time at Blizzard Beach we said goodbye to Tyler and Sara and we gathered with the band to head to the hotel.
After a much needed shower and change of clothes we were off to dinner. We were treated to a great meal and show at Sleuth's Mystery Dinner Theater in Orlando. The show included jokes, improv, audience participation and of course a murder mystery. I didn't figure out who the murderer was. The show was very good and kept you guessing right up to the end.
Our first day in Florida was about to wrap up. We were back to the hotel for a much deserved night of rest. Tomorrow we are headed to EPCOT.