Three Parks in One Day - 8/9/2012
My quick road trip through New England began to wrap up as I started my way towards home. The first of two days' drive home included visits to three amusement parks. The first two were in Connecticut and the other in Pennsylvania.
I packed up my gear and checked out of the hotel then drove to Lake Compounce in Bristol, Connecticut. It is the oldest continuously-operating amusement park in the United States and opened in 1846. I arrived before the gates opened and I was ready to begin my day of rides. I made sure it was my first ride of the day and I was able to get on the second train out of the station.
The ride at the park that I was most excited to ride was Boulder Bash. It is one of the highest rated wooden roller coasters in the world.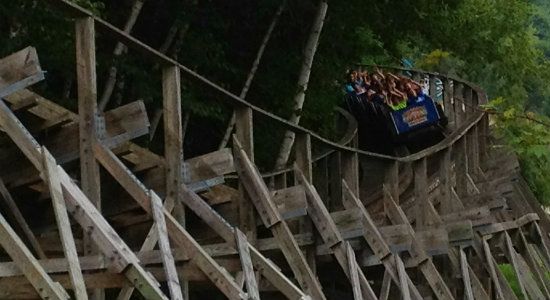 Click here to see my pictures from Lake Compounce
After just one ride I was in love. And after a second lap I was convinced that I had found my new number one favorite wooden roller coaster.
For the next few hours I rode several of the other rides at the park including Giant Wheel, Thunder N' Lightning and Zoomerang. One unique ride is Sky ride which is a ski lift that gives a scenic, half-hour trip to the mountaintop and back. I would have loved to stayed longer, but I had at least one more park to visit and a long drive ahead of me after that. So I bid farewell to the park around two o'clock and made the short drive to Quassy in Middlebury, Connecticut.
The sole purpose of my visit to this small park was to ride their newest coaster with it's revolutionary new trains; Wooden Warrior. This small coaster was designed by The Gravity Group near Cincinnati. The trains are also designed and built by Gravitykraft which is an affiliated business of The Gravity Group. The Gravity Group has a great reputation for designing smooth twisting coasters and these new trains are made to make the ride smoother still. The trains articulate through the track and have a new restraint system that is more comfortable and makes for faster loading and unloading. I'm happy to report that this coaster and the new trains lived up to all my expectations. I can't wait to ride these trains on a full-size roller coaster.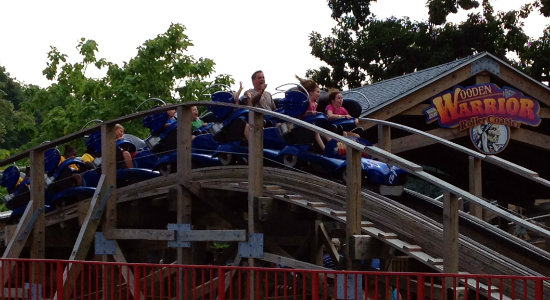 Click here to view my photos from Quassy
After three laps on Wooden Warrior and a stroll around the park I was off for the long drive to Allentown, Pennsylvania at about 3:30.
I drove the interstate highways outside New York City to avoid as much rush hour delays as possible. But I still ran into a few areas of stop-and-go traffic. The drive should have taken a little over three hours, but ended up being about four and a half hours.
My plan was to stay at a hotel near Allentown. As I got closer to my destination, I realized that I would arrive in time to make a quick side trip to Dorney Park for a few roller coasters.
As I entered the park around 8:00, two hours before closing, I also realized that the park had added a new coaster since my last visit. Cool... a bonus credit I had not planned for. Stringer is a Vekoma inverted boomerang and a clone of Invertigo at Kings Island. I was also able to get laps on Possessed, Steel Force and Hydra: The Revenge. I also took a ride on Demon Drop (formerly of Cedar Point). As I took my seat in the front row of Hyrda, I saw a flash of lightning out of the corner of my eye. Then I heard the phone ring in the operator's booth. I knew this was the call from the main office to close the rides due to the lightning. All I could think of was "Push the dispatch button". Then I heard the ride ops tell the people waiting in the queue that this would be the last train out. A moment later my train rolled out of the station and into the darkness for one hell of a great ride.
The rides were closed by the park was still open for another hour. I figured that there was no way the rides would reopen before closing, so I headed to the car. By the time I got to the hotel the rain was coming down hard. Once I was in my room I finally realized that I had not eaten since breakfast at the hotel in Connecticut. So I headed back out into the rain to find something to eat before bedtime.
Today I visited three different amusement parks. Before today I hadn't even been to two park in a single day. Wow!, what a day this has been.
Tomorrow... the final leg of my trip. And it is the longest.