Our Final Day in Washington, DC - 7/25/2010
We started our final day in Washington, DC with a great breakfast buffet in the hotel's restaurant. Then we were off to the National Zoo for our only sightseeing adventure for the day.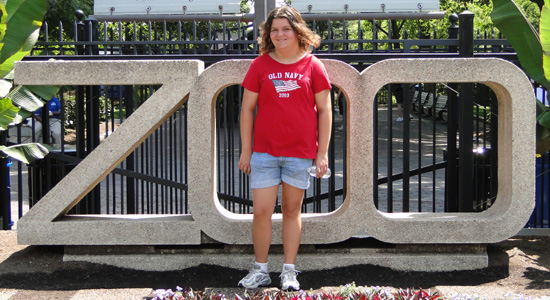 Click here to see all my photos taken at the National Zoo.
The full name of the zoo is the Smithsonian National Zoological Park. By being part of the Smithsonian Institution there is no admission charge. We were still able to get a lot of good pictures of the animals in spite of the fact that many of the animals were keeping to themselves in the daytime heat. The elephant area of the zoo was the only part that I remember from my eighth-grade trip. Around two o'clock we left the zoo and headed back to the hotel.
With walking and the two metro trains it took about an hour to get back to the hotel. We could see a large thunderstorm quickly approaching. Sarah and I hurried and jumped in the car before the storm hit. Jenny, Jake, Crissy and Derek decided to wait out the storm in the hotel.
A large piece of metal about the size of a tire came crashing down next to my car as I began to pull out of the hotel parking lot. I believe it came from the lot of a nearby light pole. In the distance we saw a large orange construction sign blowing down the street. The storm pounded down with heavy rain and high winds for about an hour while we were on the Washington Beltway.
Sarah and I made one short stop in Urbana, Maryland for gas and food. We finished the trip home in about six hours, arriving in Nelsonville at ten o'clock. The others got home at around eleven.
It was a good trip with lots of memories in our nation's capital.
Click here to see the rest of my miscellaneous pictures from around Washington.