Back to Cedar Point (This Time with Friends) - 5/19/2010
Today Sarah and I woke up very early and headed to Cedar Point. Once at the park we had Sarah's season pass processed and off to the rides we went.
First on our list was Raptor and Millennium Force for the morning ERT. Sarah and I were able to get three laps on Millie, including the front row on our second trip.
We stopped along Frontier Trail to see Shoot the Rapids, which hasn't yet opened to the public. The ride and the landscaping look great and they were also testing the ride while we were there.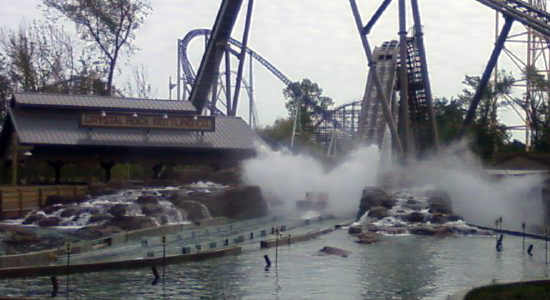 After a few more rides it was about noon and we met up with Jenny, Amy and Xander who had just arrived at the park. The five of us spent a lot of the day together. It was a good change of pace for me to enjoy the park with a young kid. Although Xander was just over 48 inches so he could ride many of the larger riders too.
During the day we rode Corkscrew, Magnum, Iron Dragon, Cedar Downs, Cedar Point and Lake Erie Railroad, Raptor, Power Tower and Sky Ride, among others. While we were with Xander I was very anxious to ride Jr. Gemini with him. Sarah and I each rode with him so we both could get our credits for riding. Now I have ridden every roller coaster at Cedar Point. And my Coaster total is now at 118.
While we rode the Cedar Point and Lake Erie Railroad, I saw this sign on the back of the on-ride photo building for Shoot the Rapids. I had to get a picture of it just because we live on Butternut Road.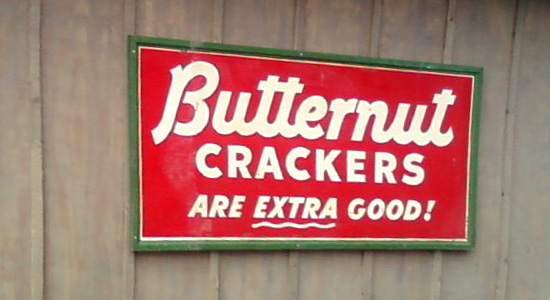 Sarah and I ate lunch at Famous Dave's at the marina. We both had pulled pork, corn on the cob, mashed sweet potatoes, baked apples and cornbread.
Xander was ready to conquer all the rides that he was tall enough for... including Millennium Force. The rest us of resisted but in the end we let him ride. Jenny, Sarah and I rode with Xander. I really wanted to see the look on his face while on Millie, so I talked him into sitting with me. He held on tight going up the fast lift hill. I asked him if we were going fast enough and he quickly said "Yeah". I told him, "I think we're going to go a lot faster. As we crested over the top of the hill his eyes popped wide open and he let out a short scream. He braced his legs against the seat in front of us as we dropped down the eighty-degree hill. With each wild hill and twisting turn he braced his legs in a different position. Hard against the floor. Pulled up under his seat. Any way he could find to hold on tighter. His hands never left the handlebar across his lap. And he shrank down into his seat. After the two-minute ride he said that he was so scared that it hurt his heart. Xander was done ride the big coasters for the day. Well, I had a blast riding with him on Millennium Force.
Towards the end of the day our two groups split up and finished with a few more rides. Sarah and I finished up with our fifth lap of the day on Millennium Force.