Ice Storm - 1/28-31/2009
At least I have a good excuse for not blogging over the last couple of days.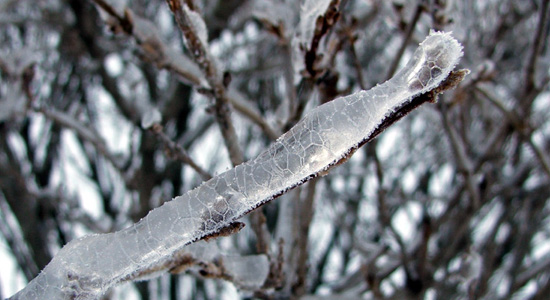 Soon after arriving home from work on Wednesday, the electricity went out at my house at about six o'clock. In fact power was out throughout huge sections of Athens and Hocking counties.
The outdoor sights and sounds of the frigid nights were an interesting experience. There was very little traffic on the road past my house. The other sounds I could hear were that of the crackling trees and the generators off in the distance. One from the neighbor and the other from Hocking Correctional Facility. I'm not sure how the inmates could sleep with a generator that loud. The only light I could see was that from the neighbor's street light, the occasional vehicle on the road I could see through the trees and the soft glow of Sodium lights from the prison on the low clouds.
Driving in the ice made me realize how much I love my four-wheel drive truck.
With Dad's help I was able to keep the house warm enough to sleep in the living room and keep the pipes from freezing. I kept all the sinks slowly running through the blackout.
Each day at work I would clean up and shampoo my hair in the sink at work.
Thursday and Friday Sarah and I ate out to get hot meals. On Friday evening Sarah and I showered at my friend Tommy's house in Canaanville.
After about 60 hours without electricity the power finally came back on just before noon on Saturday.
I know now that I definitely prefer to have my ice in my Pepsi and in the hockey rink.
Check out my pictures from the storm.