Bengals vs Panthers - 11/2/2008
Sarah and I ate breakfast at the Waffle House next to the hotel. It was quite an experience for Sarah. It was her first time at a Waffle House. We sat at the counter and she could see all the food being cooked. Then it was off to the stadium.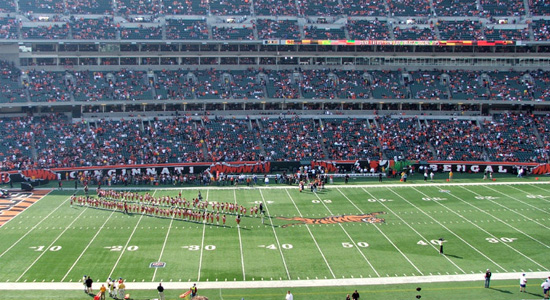 It was a great game and it was good too see the Bengals win for the first time this year. In fact, this was the first time I have ever seen the Cincinnati win. Previously I've seen them lose to the New York Jets, Tampa Bay and Arizona. They played great for three quarters. The Bengals were ahead 21 to 3. Late in the game they tried their best to lose. But somehow they managed to hold on to a 21-19 win.
Driving and parking in and out of downtown was easy. I think I finally have Cincinnati's downtown figured out.
The club level of the stadium was really cool. Our seats were great. Ordering food from our seats was cool even though we didn't take advantage of the service. $4.25 for a Pepsi is about 50 cents higher than Cedar Point, but I had to get one.
The weather was perfect, maybe even a bit hot. The guy sitting next to us had shorts on and Sarah complained about the heat just a little.
I was back in the truck at 4:21 and home before 7:30.
Thanks Tom.
Check out my pictures from the game.