Six Flags Magic Mountain - 9/17/2021
Today was finally my chance to visit one of the amusement parks that has been on my wish list for a long time. Shawn indulged me with my fascination with roller coasters and together we spent the day at Six Flags Magic Mountain in Valencia, California.
We took rideshare from our hotel in Hollywood to the park and arrived as the gates opened at 10:30am. In addition to park admission, I sprang for the upcharge to get Flash Pass. This was my gift to Shawn for putting up with me dragging him along on my coaster quest.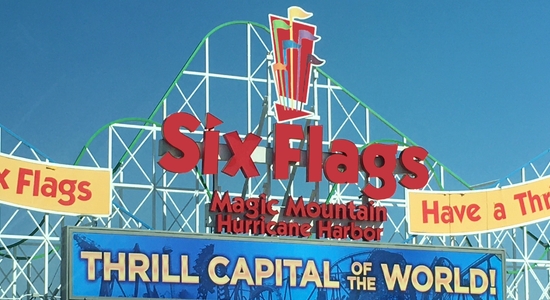 Six Flags Magic Mountain calls itself the "Thrill Capital of the World" and it has the most roller coasters in the world with nineteen. Skipping the kiddie coasters and one down for maintenance, I was able to add fourteen new roller coasters to my lifetime coaster count.
During the day we spotted a wildfire far off in the hills to the north. An internet search revealed that this fire was 15 miles away. Too far away to get a good picture. From our vantage point, the rolling columns of heavy black smoke climbing straight up looked like it might have been a volcano.
The park was open until 5:00pm, but with the Flash Pass we were able to get our fill of rides and decided to head out at 3:30pm. We summoned another rideshare to take us back to our hotel in Los Angeles.
Once back in our room we took a rest and a well earned shower.
As the evening rolled by, we decided to head out for a bite to eat. I wanted to introduce Shawn to a California original, In-N-Out Burger.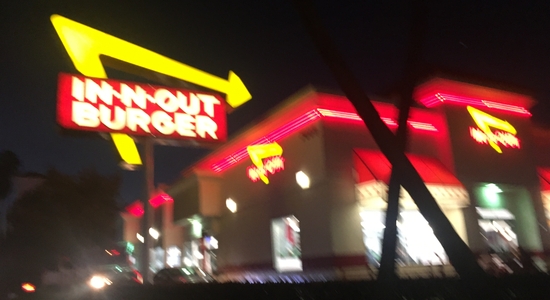 We walked a few blocks to Sunset Boulevard and there we found the nearest In-N-Out Burger. The line of cars at the drive thru was wrapped around the parking lot and out to the street. Once inside we joined the line of customers that was about twenty people deep. We got our burgers, fries and drinks and found one of the few remaining tables to eat at.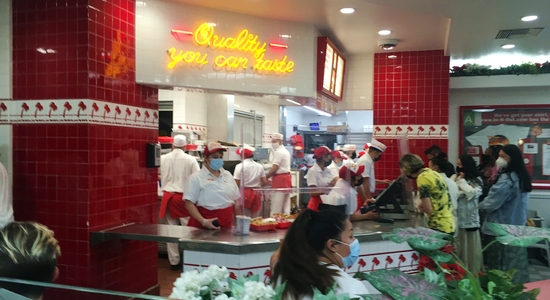 I really love In-N-Out Burger.
When we returned to our hotel room, we saw on the internet that a magnitude 4.3 earthquake struck Carson, less than twenty miles to the south, at 7:58pm and was felt throughout the Los Angeles area. That would have been while Shawn and I were eating at In-N-Out Burger. Neither one of us felt a thing and there was no reaction from any of the other customers.
Tomorrow we will be joining Shawn's friend and former coworker for lunch across town in Artesia. And then Shawn and I will visit Griffith Observatory and see what else we stumble upon.