Amtrak Bucket List Vacation - 9/10/2021
Like many other people, I have thought about taking a journey across America by rail. After years of sporadically researching and window shopping online, and this past year during the pandemic, I have dug deeper into making this trek become a reality. Today this odyssey began.
For the next week and a half I plan to travel through four time zones and ten states; visit two amusement parks and so much more. This vacation will last a total of eleven days.
The first step on the rail excursion began with getting on the train. And since there aren't any train stations near my house, I first had to get to the closest station which was about a two-hour drive away. Jenny had agreed to drive me to the South Shore, Kentucky station.
Sally joined Jenny and me on our little road trip. And for their troubles I bought them dinner. We stopped at Patties and Pints in Portsmouth and afterwards drove along the floodwall to look at the murals.
We crossed the Ohio River into Kentucky and made the short drive to South Shore. I tracked the train on my phone and I could see that it was running about 25 minutes behind schedule.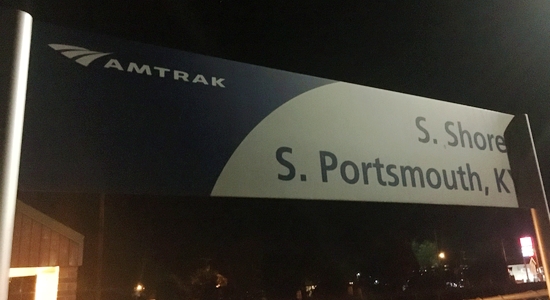 The station which is a simple shelter with a parking lot is currently closed and surrounded with a chain-link fence while it is being renovated. About a half dozen other passengers gathered to wait near the adjacent CSX building.
In the distance we could hear the whistle blowing. We made our way trackside and soon we could see the light of the train as it approached.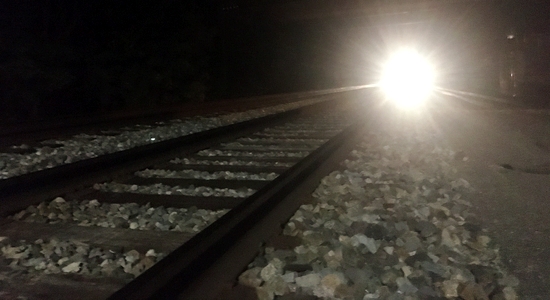 I was surprised how the train rolled in and quickly slowed down to a stop. Our train, Cardinal (train 51), was scheduled to arrive and depart at 10:57pm and our actual departure was at 11:25pm.
I tried to get some sleep in my passenger seat. We moved along the Ohio River and through the station at Maysville, Kentucky. At Covington, we crossed the river into Cincinnati where we made a short stop at the famous Union Terminal. As the train slowly made its way through the freight yards and towards Indiana I finally managed to get at least a little bit of sleep.
Tomorrow I'll continue on to Chicago, where I'll meet up with Shawn and together we will head west on Amtrak's California Zephyr.