United States Navy Band - 4/6/2017
This evening friends and family attended the performance by United State Navy Band at the Templeton-Blackburn Alumni Memorial Auditorium in Athens.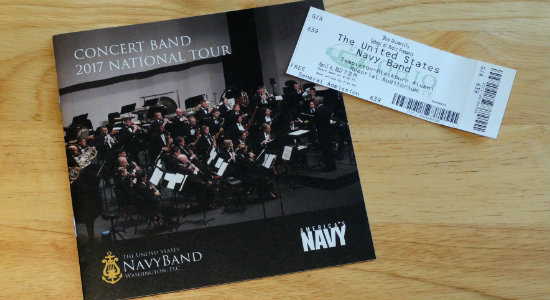 The band performed Overture to Die Fledermaus by Johann Strauss II, Concerto for Horn No. 1 in Eb Major, Op. 11 by Richard Strauss, Washington Post by John Philip Sousa, A Timeless Tribute to Barbra Streisand, The Incredits by Michael Giacchino, Whip and Spur by Thomas Allen, The Carnival of Venice by Jules Demersseman, Ich Bin Der Welt Abhanden Gekommen by Gustav Mahler, The Wild Goose by Ryan George and Armed Forces on Parade by Richard Hayman. Sarah and I particularly enjoyed the music from The Incredibles. Vocalist Kristine Hsia was amazing in the tribute to Barbra Streisand. This was the band's final performance of their spring tour which began March 13th in Pittsburgh.
It was a delight to hear such great musicans and an honor at attend.