University Band and Symphonic Band - 3/21/2017
This evening Jim, Julie, Mom, Crissy, Jake and I attended the concert of the University Band and Symphonic Band at Templeton-Blackburn Alumni Memorial Auditorium in Athens.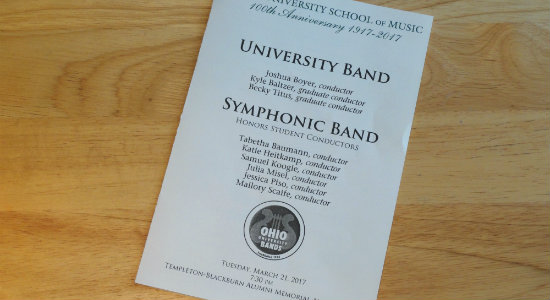 The University Band, conducted by Josh Boyer, Kyle Baltzer and Becky Titus, performed Drive!, Dominion of the Sky, Three Ayres from Gloucester, The American Red Cross March and Pathways.
The Symphonic Band was conducted by honors students. They performed Declaration Overture conducted by Jessica Piso, Yorkshire Ballard conducted by Katie Heitkamp, Sweet Like That! conducted by Julia Misel, At Morning's First Light conducted by Tabatha Baumann and Variants on a Nautical Hymn conducted by Samuel Koogle. Sarah performed with the Symphonic Band.
We all enjoyed this evening's concert.