"Weird Al" Yankovic The Mandatory World Tour - 6/23/2015
This evening Sarah and I traveled to Newark to see "Weird Al" Yankovic perform at the Midland Theater as part of his Mandatory World Tour.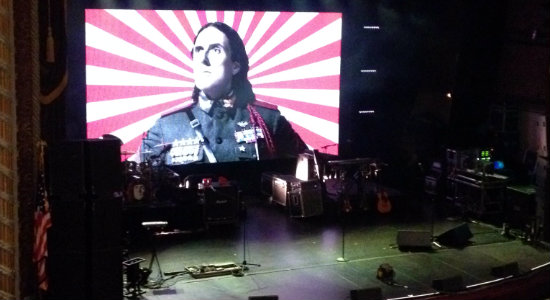 The show started with a video montage on the large screen at the back of the stage. The first song showed Al on the screen and we all assumed that this was still part of the produced video. Al was walking down a street singing his new song, "Tacky". But as the song continued we each realized that this was not a recording and was actually live from just outside the theater. Al proceeded to sing as he interacted with people on the sidewalk. He made his way through the theater lobby, up the aisles and onto the stage just as the first song ended. This was the most impressive entrance I've seen.
The concert was full of his hits and songs from the new album. There were many costume changes throughout the show. The video screen played several clips from TV shows and films that have featured Al over the course of his long career.
I had a ton of fun. And I think Sarah might have enjoyed it almost as much as me.
This was the second time that I have seen Weird Al in concert. The first time was in the mid-90's with Julie at the Ohio State Fair where he co-headlined with Jeff Foxworthy.