Animal Kingdom and Disney's Hollywood Studios - 6/6/2014
Our Orlando adventure wrapped up today with visits to Animal Kingdom and Disney's Hollywood Studios.
The first stop of the day was Animal Kingdom. With limited time in the park we had to make good choices in the attractions we wanted to see. By far, the most important item on my list was Expedition Everest. This $100 million coaster has been on my wish list since it opened in 2006. After one lap with Jenny I was able to get two additional laps by cutting to the front of the line and riding as a single rider.
Next was was a long wait for Kilimanjaro Safaris. This was a tour of a lush African savanna, home to exotic animals like lions and elephants in an open-air vehicle. Jenny and I were able to get some of the best views of the animals we had ever seen. Better than a visit to a zoo.
We finished our stay with a ride on the park's other coaster, Primeval Whirl. This is a wild mouse coaster with spinning cars.
Click here to see all of my pictures from Animal Kingdom.
We met up with the rest of the band and headed to Disney's Hollywood Studios.
Some of the rides and attractions Jenny and I were able to enjoy were The Great Movie Ride, Muppet Vision 3D, Rock 'n' Roller Coaster and Star Tours.
The best ride at the park and one of the most unique rides I have ever been on was The Twilight Zone Tower of Terror. It as a drop tower combined with a dark ride and great Disney theming.
At one point late in the afternoon I was off to get a additional lap on Rock 'n' Roller Coaster Starring Aerosmith while Jenny and Julie took a break. As I was leaving the coaster and walked past an area near a gate to the backstage area, there was a small group of about four to six people surrounding a man with a white beard. I heard one of the people say, "That's the original guy." Since I was leaving the Aerosmith coaster I assumed it was a member of the band. I knew Steven Tyler and Joe Perry, so I thought that it must be drummer or another member of the band. I walked past the group and headed back to join the others. After a few seconds I realized that the bearded man was Mark Hamill. I immediately turned around and joined the group of people surrounding the Star Wars hero. The number of people in the group was increasing and Mark's handlers said that it was about time for him to go. I looked at the guy standing next to me. We were both holding our iPhones ready to take pictures. We quickly traded phones so we could take pictures with Mark. I took his pictures first and then it was my turn to get a pictures with Mark.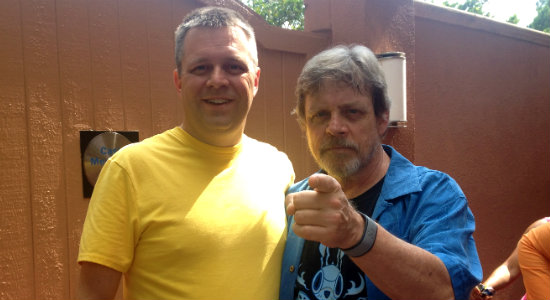 I thanked Mark and headed back to meet with the other as Mark disappeared through the gate to the backstage area. I was so excited and I could feel my heart beating in my chest. I was walking on air as I texted Sarah, Jenny and others about whom I had just met.
While I was getting my picture taken with Luke Skywalker, Sarah we getting hers taken with her friends and Chewbacca.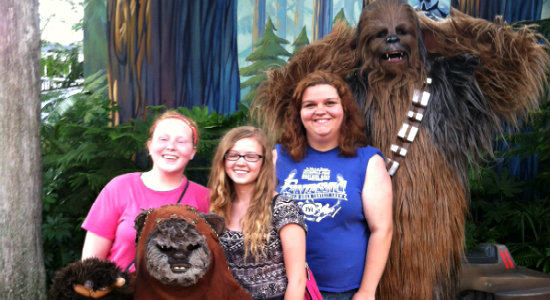 Ewok, Chloe, Becca, Sarah and Chewbacca.
Later in the day Mark was trending on Facebook.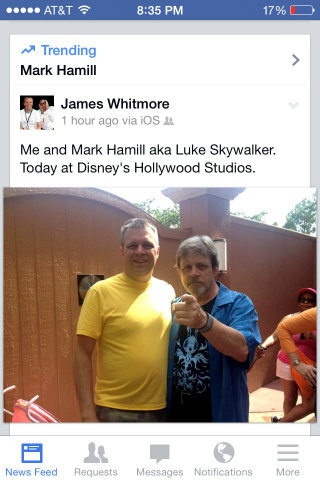 Our evening concluded with the entire band gathering together to watch Fantasmic, a breathtaking 30-minute fireworks and water extravaganza.
The band's whirlwind tour of Orlando had come to an end and only the long bus ride home was left. The long seventeen-hour trip home on a bus that now smells like feet.