Circleville Pumpkin Show - 10/20/2012
Today I drove to the Circleville Pumpkin Show for the first time.
Over the year I had heard so many stories of all the different foods made with pumpkin at the show. I was really looking forward to sampling a few of them. The first thing I ate was a pumpkin cream puff. It was cold and hard. Not very good. And for $6.00 it wasn't a very good deal either. After some walking around I found a small out-of-the-way booth that sold only mini pumpkin donuts. They came straight out of the frier. Each person had to wait for their order to be prepared one by one. It was worth the wait. They were hot, fresh, soft and so delicious. And a great deal at $3.00 for a dozen.
As the sun set it was nearing time for the parade. I met up with Sarah and the marching band as they warmed up for the event.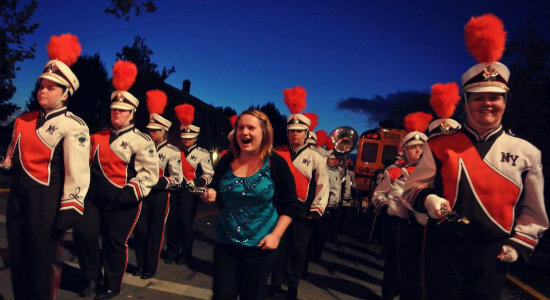 Circleville had a great parade and I was able to catch the Marching Buckeyes put on their show.
The weather was great. Clear skies and kind of warm for a fall day. I had a good time at the Pumpkin Show.