Six Flags America - 6/5/2012
Our second day in the DC area was spent at Six Flags America in Upper Marlboro, Maryland.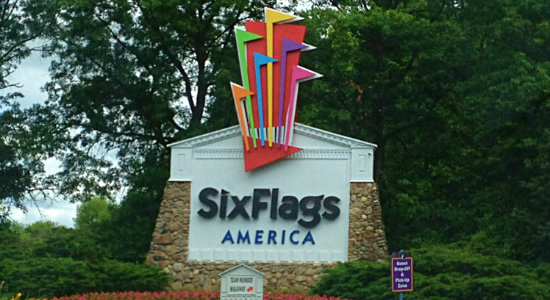 This was Sarah's first trip to a Six Flags park and my second visit. My first was at Six Flags Marine World in Vallejo, California in 2005. Six Flags America was a beautiful park with lots of trees and good landscaping. The park was very clean and well maintained. I was impressed with the number of locker and restroom attendants. I liked the theming in the park as well.
Sarah and I each got six more roller coasters under our belts. That brings my lifetime total to 135 coasters.
Superman - Ride of Steel was my favorite coaster at the park. Superman was built a year before Cedar Point's Millennium Force, which is my all-time favorite. The same company designed both coasters and they have some similarities, so I was really looking forward to Superman. I was surprised by how many improvements they were able to build into the newer coaster in just one year.
Joker's Jinx was a clone of Flight of Fear at Kings Island and Kings Dominion. But this version isn't enclosed. I think it is a better ride and maybe smoother too.
Mind Eraser was also a clone of other coasters. I have ridden three other copies before this one. I think this may be the smoothest of the four.
Roar wasn't as smooth as its counterpart in California. Obviously this was because of the different trains that are used on the two coasters. This Roar used PTC trains, while the Road at Six Flags Marine World, which is one year newer, used Millennium Flyer trains.
Wild One was a classic woodie that was built in 1917 at Paragon Park in Hull, Massachusetts. It was relocated here for the start of the 1986 season. It has a long course for a older coaster and lots of airtime.
Batwing was a flying coaster like Firehawk at Kings Island and Nighthawk at Carowinds. Batwing has a different (and better) mechanism to raise and lower the trains in the station. Man, I love a good flying coaster.
Another guest-friendly aspect to the park was the numerous chances for photo opportunities with the park characters. I had my picture taken with Bugs Bunny and Daffy Duck, while Sarah and I both got our photo with the Joker.
The weather was great all day long. It was partly cloudy, temperatures in the 70s and a little breeze too. I might even say it was a little cool at times.
We had a great time at Six Flags America.
Click here to see my pictures from Six Flags America.
Tomorrow... museums.