Tax Season Party - 4/16/2010
Tonight the office gang headed to the Oak Room in Athens for our end of tax season party.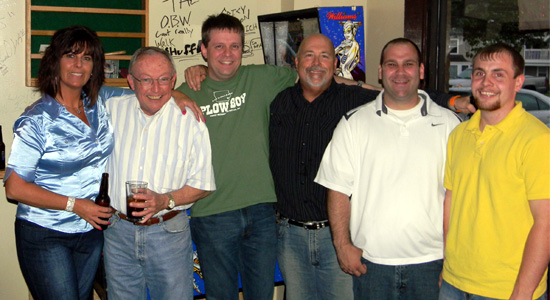 Beth, Charlie, Jessica, Tom, J.J. and Kevin from the office were there. As well as Laurie, Shawn, Annie, Chris, Schuyler and Gloria.
We had our usual party food including livers and wings. The homemade potato chips were especially great this year. I enjoyed them so much, I managed to scam my way into taking the leftovers home with me.
Most of us joined in and played some pool. Somehow this year I didn't get hooked into showing how bad I play pool.
We had plenty of beer and a few shots too. J.J. even had a shot.
Several of us took turns picking songs to play on the jukebox. Laurie made me feel very straight with her choice in music, especially dialing up Cher's 'Gypsies, Tramps and Thieves'.
Thank you Tom.
Click here to see all of my pictures from the tax party