Waldameer - 8/27/2009
Sarah and I were off today to Waldameer in Erie, Pennsylvania. This small family-owned park is on a bluff overlooking Lake Erie. The park has a good collection of rides, a small water park, two dark rides and four roller coasters, including one of the best wooden coasters in the world. More about Ravine Flyer II later.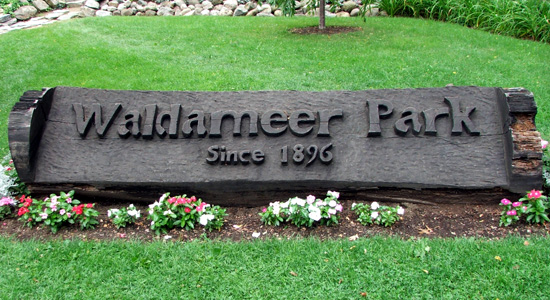 The park has acres of shady picnic grove open to the public at no cost. In fact, the park has free parking, no admission fee and there is no front gate. You can get tickets for individual rides or an all day wristband. Of course Sarah and I rode non-stop all day.
Their water park had several slides and a lazy river. One unique feature was the heated relaxing pool. There was no wave pool, tornado or toilet bowl. With such a small number of rides and the cold temperature, Sarah and I didn't stay long at the water park.
We enjoyed two of the park's live entertainment shows at the Showtime Theater - Sock Hop and Merge. And of course we had some great park food as well.
We spend most of our time on the rides. Sarah and I did a couple laps on the Tilt-A-While and Mega Vortex. We experienced the two dark rides - Whacky Shack and Pirate's Cove. We also hit the Scramblers, Sky ride, L-Ruth Express Train, Paratrooper, Giant Gondola Wheel, Wipeout, Thunder River, Sea Dragon and X-Scream. Sarah did a solo lap on Ali Baba.
The reason we were at Waldameer was the coasters. And they have a nice collection of four. Ravine Flyer 3 is a small kiddie coaster built over water. It's a small one, but we had to ride it to get the credit. Comet is a wooden family coaster built in 1951 with a classic design and round loading platform. Steel Dragon is a high tech twisting coaster with spinning cars. I liked it much more than Sarah did.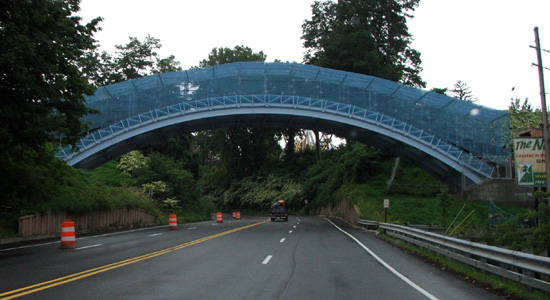 Ravine Flyer II was the legend of a coaster that brought us to the park. Only in it's second year, word of this coaster has spread like wildfire. It earned a 2008 Golden Ticket for Best New Ride. Ravine Flyer II crosses over Peninsula Drive just past the park entrance on a huge steel arch bridge. We rode it several times through the day. After the sun set it got faster and faster. It was a blast. We both loved it. It's one of the best wooden coasters ever.
A great day of rides and fun with Sarah!
Click here to see all my pictures from Waldameer.